Grenfell: a sorry tale emerges
By Paul Coleman
The grisly Grenfell Tower fire is a vicious bandit that steals lives.
The fire traumatised many eyewitnesses.  Tamara, a local resident, recalls: "Several of us ran over to the estate and there were people throwing the kids out of the building and saying 'just save my children'."
"I saw a man fly out of his window," says Samira, another eyewitness. "I saw kids screaming for help and a lot of people jumping out."
"People jumped," says a fireman. "A mother threw a baby from a floor high up, caught by a complete stranger just so she could get away her baby away from the fire."
A young man closes his eyes and puts his hand on his forehead to recall a raw, salted and painful memory. "I saw a kid on fire on the twenty-second floor," says the young Londoner. "He walked to the window and jumped."
Silent march
Pending eventual demolition, the tower's charred shell still grotesquely blackens west London's skyline. White sheeting now wraps several sections; but the phantomesque sight of the Grenfell Tower on the Lancaster West Estate still pauses people in their tracks as they go about their daily lives, reminding them of neighbours who, due to the fire's brutal cruelty, no longer go about theirs.
Forensic investigations still continue inside Grenfell's blackened hulk in north Kensington. However, the authorities tell us that the scorched and gutted tower now yields a final grim tally; a total of 72 people perished in this atrocious fire in the early hours of 14 June 2017.
Consistently, on the fourteenth evening of every month, hundreds of local people march through these streets. Their completely silent monthly march pays a dignified tribute to the Grenfell 72 and powerfully highlights the injustices that led to the fire. Along the way, they embrace some of the firefighters who pushed themselves to new heights of endurance and bravery to save the lives of so many Grenfell residents on that fearful night.
The marchers also pass the town hall, home to the Royal Borough of Kensington and Chelsea, the council principally blamed by many local people for decisions and failures that made such a serious fire inevitable.
Shock
The Grenfell fire struck the people of this Latimer Road neighbourhood like a thunderbolt, even though some Grenfell Tower and Grenfell Walk residents had forewarned of its possibility – even of its inevitability. Some survivors, hospitalised after the fire, now walk these streets in a post-traumatic daze.
I remember seven days after the fire, Pauline, a local North Kensington resident, flicking through the pages of a book of condolence placed on a table outside Notting Hill Methodist Church. Pauline neatly and reverentially adds her own words to the book: 'I can't even imagine what you were all going through, watching it from my window I felt so helpless. Every single one of you are so courageous and for those that didn't make it God truly bless your souls. RIP.'
A frail-looking elderly woman, a local resident, confronted by the dozens of 'Missing' notices, flowers and crayoned children's drawings of a burning Grenfell Tower, slumps to the pavement. Three women come to her aid and sit with her on the paving stones to offer comfort.
Even now, nearly a year on, local people in this quiet corner close to Ladbroke Grove and the annual Notting Hill Carnival route, volunteer their visceral shock, grief and anger. Time, if it is a healer, has yet to put in a real shift on these streets.
Sorry tale
In Spring 2018 a sorry tale emerges about the fire's causes and consequences even before a public inquiry hears from its first witnesses. Central and local government struggle to mitigate the ongoing consequences suffered by Grenfell fire survivors. Anger centres on the slow rehousing of households evacuated from their Grenfell Tower and Grenfell Walk homes. Of 209 evacuated households, 86 languish in emergency accommodation as of 1 March 2018, says the North Kensington Law Centre. Another 63 households remain in temporary accommodation and just 60 have moved to permanent accommodation.
By the end of March, the government cites figures from Kensington and Chelsea Council that claim 82 households remain in emergency accommodation, including 25 families with children. The government says 62 of 208 evacuated households are now in permanent accommodation.
It's a sorry tally, especially so, in light of an initial post-fire pledge made by Prime Minister Theresa May. Stung by criticism of her failure to speak directly with survivors on these streets, May imposes a deadline of three weeks after the fire for government and the council to rehouse survivors and residents who have lost their homes.
Public inquiry
In Spring 2018, families of people killed in the fire and survivors say the public inquiry into the tragedy has already failed to share thousands of key documents with them even before its first witnesses give evdience. Experts at the inquiry, they say, receive such documents but not the core families taking part. Residents also claim Dame Judith Hackitt's review into building regulations and fire safety excluded them too.
No representatives of the Grenfell community will sit on the public inquiry. The government decrees that Sir Martin Moore-Bick, a retired Lord Justice of Appeal and a judge with 20 years experience of commercial, civil and criminal cases, will head the inquiry. The inquiry selects 504 individuals and 28 organisations to give evidence.
The inquiry will no doubt be confronted with lingering uncertainty about the exact final death toll.  In the three weeks after the fire, senior coroner Dr Fiona Wilcox formally identifies 21 people who have died. She informs their families. Police Commander Stuart Cundy says police have forensically transferred the last of 87 visible remains recovered from the tower to the Westminster Mortuary. "I must stress that the catastrophic damage inside Grenfell Tower means that this is not 87 people," says Cundy. "I cannot say how many people have now been recovered."
Police speak to at least one resident in 106 of Grenfell's 129 flats and from this know that people from those flats are dead or missing presumed dead.
But, three weeks after the fire, police remain unable to trace or speak to anyone who lived in another 23 flats spread from the 11th to the 23rd floor. Detective Chief Superintendent Fiona McCormack, a homicide and counter-terrorism specialist, says police do not know for sure exactly how many people were in those 23 flats on the night. McCormack has listened to 26 emergency 999 calls from people who said they were inside one of those 23 flats. Police assume that no one from any of these flats survived.
McCormack says international forensic specialists are involved with the Grenfell investigation. "But the tragic reality is that due to the intense heat of the fire there are some people who we may never identify," says McCormack.
The Metropolitan Police says its criminal investigation of the Grenfell fire takes 415 witness statements and data from 154 organisations. Some 560 emergency 999 phone calls are also on record from that night.
Accuse
The Grenfell Tower is – or was – part of the Lancaster West Estate, a public housing estate, built in the 1970s and initially managed and maintained by the local council. The estate provided generations of working class people with 900 homes. The Grenfell tower itself housed an estimated 600 people in 129 flats on 24 floors.
But in the mid-1990s the council pass management of the estate to the Kensington and Chelsea Tenant Management Organisation, a not-for-profit private company with tenant representatives on its board. A long-running saga over many years sees tenants lose any meaningful grip over the company.
Grenfell Action Group residents accuse the KCTMO of ignoring their expressed worries about poor fire safety, no sprinklers, inadequate fire safety and a series of power surges that causes small fires in flats. The KCTMO responds inadequately and operates with a democratic deficit that will later cost lives – and render many homeless. Much of the KCTMO's failings centre on the cladding used to refurbish the tower in 2010.
Cladding

The government says regulations prohibit the use of 'Class O' cladding panels on tall buildings. The government says polyethylene-cored panels on the Grenfell Tower failed to meet a higher combustibility standard, rendering their usage illegal. But in March 2012 a government fire safety expert reportedly signed a certificate permitting their usage on buildings higher than 18 metres.
Cost savings seem to take priority over safety. Investigations reveal two versions of Reynobond PE cladding – aluminium panels with plastic filling.  These prove £300,000 cheaper than a zinc cladding alternative considered for the tower's refurbishment in 2015. Some experts now say fire resistance tests should have required Reynobond PE to have attained a higher A rather than lower B rating. Manufacturers Arconic says it knew the tests ratings were low, even as low as E on some tests. One anonymous expert source says in April 2018 "you wouldn't put E on a dog kennel" and that the cladding should have been subject to a product recall.
Blame game
This sets in train a blame game with government, the local council, contractors, manufacturers and safety bodies all worried about being deemed liable for the fire. Arconic, in a statement, says: 'The relevant UK building codes and regulations require entities who design the cladding system, such as architects, fabricators, contractors, or building owners, to conduct their own full systems testing or analysis of the entire cladding system.'
Arconic stops selling Reynobond PE for all building uses after the Grenfell fire. The Metropolitan Police and Grenfell Tower public inquiry question the company.
The British Board of Agrément issued the B rating for the cladding in 2008, using Arconic technical data. The BBA says its certificates are not 'guarantees' for individual buildings. The BBA maintains a local authority is responsible for deciding whether to use such materials on a building. Local Authority Building Control, that represents council building control teams, says its members depend on manufacturers telling the truth about their products and tests.
The government says – since the fire – that class A standard rather B ratings are required for buildings over 18 metres high. But construction industry sources say this guidance is only made clear after the fire and add government set the lower standard class B before the fire. Any material rated Class E ought to have been banned from use anyway.
Cladding removal
Work to remove dangerous cladding on 103 of 158 council and housing association towers begins ten months after Grenfell. Unsafe aluminium composite cladding also adorns 134 private residential buildings.
In Camden, metal curtain walls that hold windows and insulation panels on the outside of five tower blocks on the Chalcots Estate in Swiss Cottage need major work to make them safe. Windows fell several times in the past few years. This represents another disruption in the lives of residents forced en masse to rapidly evacuate their homes in the wake of the Grenfell fire. Contractors then removed flammable cladding from their blocks.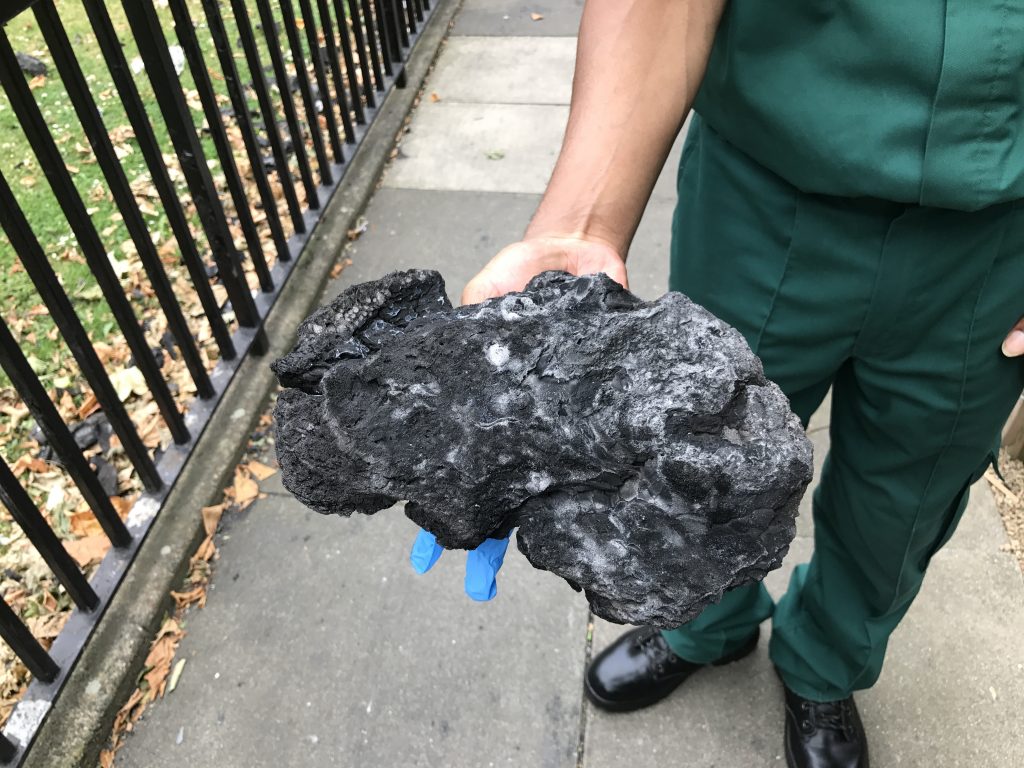 Fire doors 
An undamaged front door from a Grenfell flat resists flames and smoke for only 15 minutes when tested, says the Metropolitan Police. Such failing doors should provide 30 minutes' fire and smoke resistance. Manse Masterdor, a company reportedly no longer trading, manufactured the failing doors.
A trade body, the British Woodworking Federation, says it has lobbied the government for years to make third-party checks obligatory on the manufacture of these doors. Government ministers say there is 'no evidence the Grenfell door tests represent a 'systemic issue' and social landlords need take no action.
Sprinkler systems
Since Grenfell, the government also refuses to commit public funds for the retrofitting of sprinkling systems in all UK tower blocks. London Fire Brigade commissioner Dany Cotton says sprinklers "can't be optional".
All new high-rise flats must be fitted with sprinklers, says the London Assembly in March 2018 – as well as all new care homes and sheltered housing. Sprinklers, say Assembly members, should also be retro-fitted in 200 high-risk buildings.
It is also reported that back in February 2014, then Housing Minister Brandon Lewis rebuffed junior housing minister Heather Wheeler when she called for mandatory sprinklers systems in all new developments. Lewis told Wheeler the government is committed to reducing regulation. Building regulations require sprinklers to be fitted to buildings constructed since 2007 if they are taller than 30 metres.
Reports also emerge that the government in 2010, as part of a building regulations review, asked fire safety professionals for their views on how to cut costs.
Ongoing tragedy

Campaigners are trying to focus public opinion on the injustice and ongoing tragedy of the Grenfell fire. Mainstream media interest continues to fade. Some 297 towers in the country remain clad in flammable material. Recently, campaigners drove three billboards on vans to the Houses of Parliament and paraded them around central London. The three billboards simply stated: '71 Dead – And Still No Arrests – How Come?' (below). The death toll has since risen to 72.
Also, residents on six blocks on the Lancaster West Estate – that includes Grenfell Tower and Grenfell Walk – will start paying rent again. Yet the Royal Borough of Kensington and Chelsea Council said it will consider making payments to some council tenants worth 50% of their rent and service charge. This will cover tenants' costs that arose from the disruption caused by the fire.
Building regulations
Government and building industry bodies also dispute what should be included in Approved Document B –  the official guidance for building regulations. The government says 'desktop studies' are permitted. Desktop studies allows combustible cladding to be installed on high rise blocks without new tests. The studies assume the safety or otherwise of cladding systems based on prior test data. But some manufacturers say Approved Document B does not support desktop studies. The Ministry of Housing, Communities and Local Government says it will consider banning or restricting desktop studies to assess the fire safety performance of cladding systems.
Fire safety review
Dame Judith Hackitt's post-Grenfell review of building regulations seeks new fire safety building regulations. Grenfell survivors and some Members of Parliament want an outright ban on combustible materials on tower blocks. Fire toxicity analysts also say the regulation review should include materials that emit toxic gases when they catch fire. One Grenfell Tower suffered cyanide poisoning during the blaze. Research also shows Grenfell insulation – made of polyisocyanurate foam – emits five times more toxicity when burnt than other insulation types. Most fire deaths occur from smoke inhalation yet building regulations do not cover materials' toxicity.
The review is also restricted to high rise and new build blocks and does not include low-rise blocks and existing stock. Hackitt's report is expected in Spring 2018.
Boiler failure
A temporary boiler on the Lancaster West Estate breaks down in the middle of the March 2018 cold snap. Residents see steam pouring from a broken pipe on a Saturday night. Heating resumes three hours later after maintenance engineers fix the pipe. The temporary boiler provided heat and hot water for the remaining residents. The fire destroyed the main boiler.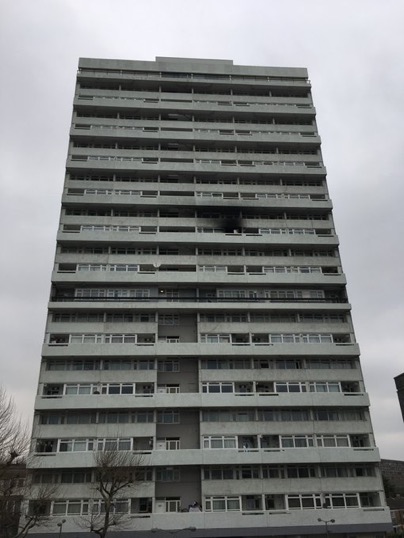 Battersea fire

Firefighters also investigate fire damage to a 13th-floor flat in Sporle Court in April 2018 (above). The flat is part of a council estate in Battersea owned by Wandsworth Council. No injuries are reported in the fire contained within the one flat.
Debris
Finally, high winds in March 2018 blow Grenfell Tower fire debris from the roof of the adjacent Kensington Aldridge Academy on to Lancaster West Estate homes, say local residents.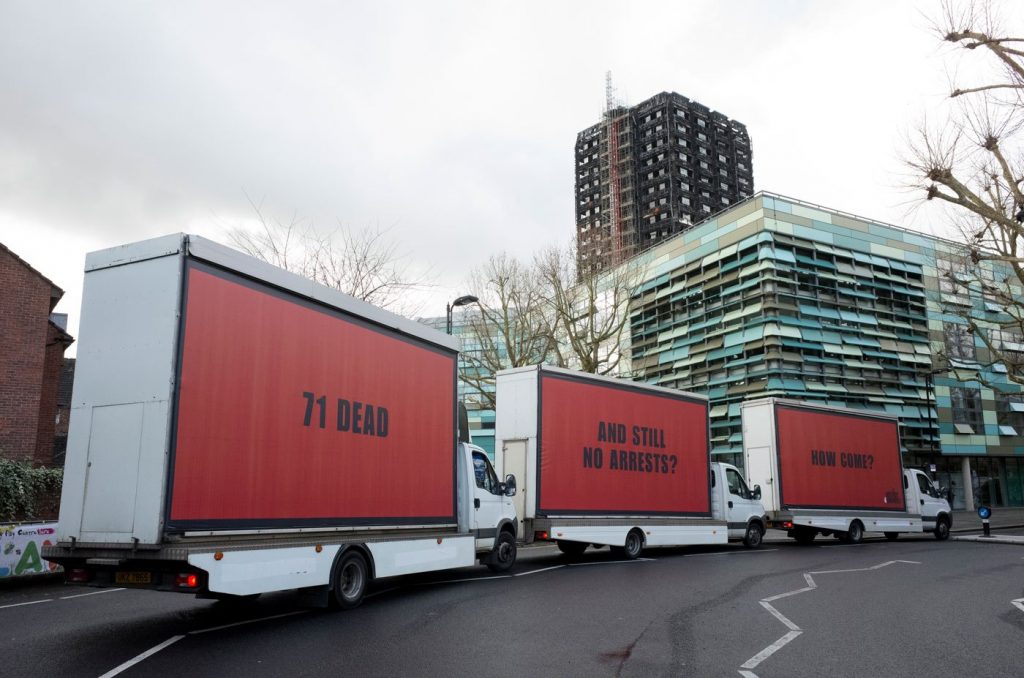 ©  London Intelligence 2018