Grenfell fire: 149 households still not rehoused
Central and local government dithering after the Grenfell fire continues to perpetuate the suffering of survivors and evacuees, writes Paul Coleman.
Of the 209 households evacuated from their Grenfell Tower and Grenfell Walk homes, 86 remain in emergency accommodation as of 1 March 2018, according to figures from the North Kensington Law Centre. Another 63 households have moved into temporary accommodation and just 60 have moved into permanent accommodation. The fire of of 14 June 2017 killed 71 people.
Meanwhile, campaigners are trying to keep public opinion focused on the injustice of the Grenfell fire. Mainstream media interest continues to sag. Some 297 towers in the country remain clad in flammable material. No representation of the Grenfell community sits on the public inquiry. Recently, campaigners drove three billboards on vans to the Houses of Parliament and paraded them around central London. The three billboards simply stated: '71 Dead – And Still No Arrests – How Come?'
Also, residents on six blocks on the Lancaster West Estate – that includes Grenfell Tower and Grenfell Walk – will start paying rent again. Yet the Royal Borough of Kensington and Chelsea Council said it will consider making payments to some council tenants worth 50% of their rent and service charge. This will cover tenants' costs that arose from the disruption caused by the fire.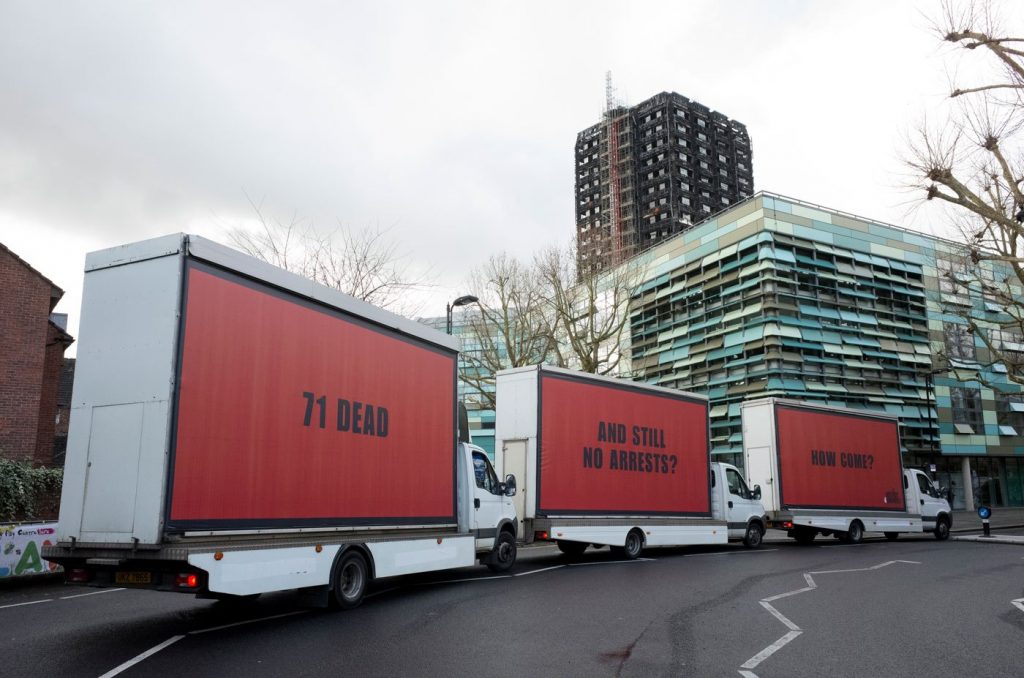 © London Intelligence. All Rights Reserved.