Grenfell pledge/Elephant anger/Garden Bridge cronyism
The first phase of the public inquiry into what happened during the Grenfell Tower fire of 14 June 2017 concludes in early December. But its conclusion leaves bereaved families, residents and survivors with mixed feelings.
They voice dismay that the second phase of the inquiry into why the fire happened will not begin until late 2019 at the earliest and more than likely not until 2020. That second phase promises to look into the actions of the Royal Borough of Kensington & Chelsea and its subcontractors. Their refurbishment of Grenfell Tower led to the uncontrollable spread of the fire across flammable external cladding. The fire claimed the lives of 72 people.
*
Hard-hitting
In the meantime, bereaved, residents and survivors release a Grenfell United video calling for the inquiry chairman Sir Martin Moore-Bick to recommend radical safety measures in early 2019. These would immediately render people safe who live in council and social housing.
The Grenfell Tower fire killed Hesham Rahman, aged 57. Reshman, a hairdresser, lived in flat 204 on Grenfell's 23rdfloor. Karim Mussilhy, (above), Reshman's nephew, speaking on behalf of Grenfell United, wants Moore-Bick to use the time now available to make some "hard-hitting interim recommendations" about fire safety and the use of subcontractors.
"Of course, we're disappointed it's going to take a long time to continue the public inquiry," says Mussilhy. "But we found out some horrific things very early on. We now know that through the refurbishment of 2016, not only the cladding but pretty much everything about the building, in terms of the materials used, turned that building into a death trap – the cladding, the windows and doors."
Danger
"People who live in social housing should feel safe," adds Mussilhy. "There are still 441 towers in the UK that have cladding similar to Grenfell Tower. The government says no more buildings will be built using these materials.
"But that doesn't take away the danger that is still out there today. It's not just about us, or Grenfell Tower anymore. It's too late for us and for our loved ones. But the changes we want are national and for everyone."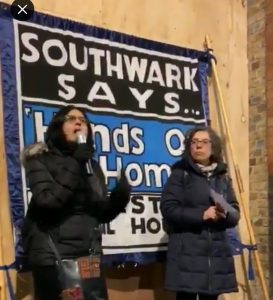 Elephant Anger
On Wednesday night (12 December) around 100 independent shop owners, railway arch and market stall traders at the Elephant and Castle Shopping Centre score a significant victory.
The traders' presence at a Southwark Council planning sub-committee meeting pressurises councillors to defer a decision about a temporary market space that Delancey proposes in Castle Square. The developer wants to allocate existing traders to this "vibrant and varied" retail space whilst it 'regenerates' (demolishes and redevelops) the shopping centre – and so it must get planning consent for the temporary Castle Square 'Box Park'.
Traders, like Emad Megahed, and Mateo Quintero of Distriandino – a Colombian bar and restaurant – say the allocated temporary space is too small, rents will be too high and there is no guarantee they will be able to afford 'guaranteed affordable' rents set for the new development.
Emotional
Planning officers concede at the meeting that the Castle Square retail space was never meant to accommodate all independent Shopping Centre traders. To do so, it would need to be eight times larger. Councillors decide they need new information about rent levels paid by the tenant traders at the Shopping Centre.
Many of the traders are part of south London's long-established and vocal Latin American community. Before the meeting, traders, resident campaigners and students protest outside Southwark Council's Tooley Street HQ against the entire Delancey-led, Southwark Council-backed plan.
"This is a very emotional time for us," says Patria Roman of the community pressure group, Latin Elephant (above). Roman says a number of railway arch businesses owned by Latin American traders will be destroyed without proper compensation whilst other businesses will receive support.
Roman tells protestors there has been no proper impact assessment of the redevelopment plan on the Latin American community. "I can't understand how someone go to bed and sleep after making this decision (to redevelop) without thinking of the consequences that will decimate a community that has been there for many, many years," says Roman. "I'm very angry."
The 'regeneration' plan received backing from Mayor of London Sadiq Khan on Monday (10 December).
Bo and Jo's Gift That Keeps On Taking
The ditched Garden Bridge over the River Thames continues to threaten to drain public funds.
Londoners had thought the ill-conceived 'vanity' project, designed by Thomas Heatherwick and backed by former London Mayor Boris Johnson and 'celebrity' Joanna Lumley, had long been dumped by Johnson's mayoral successor, Sadiq Khan.
But another £5.2 million could still be paid to the Garden Bridge Trust to pay for the winding up of the now failed charity, according to recent accounts filed at Companies House. The government has already told taxpayers they will underwrite £9m to cover the cost of the project's failure. Championed by Johnson and Lumley, Heatherwick's unbuilt bridge had previously cost £40m of public money.
The Garden Bridge Trust apparently owns donors nearly £7m and another £4.3m to corporations that sponsored the Trust's trading arm.
Fancy and crony
The London Assembly has set up a cross-party working group to investigate the project and the behaviour of its trustees.
"Londoners have lost £43 million as a result of Boris backing this ill-conceived fancy," says Michael Ball of Thames Central Open Spaces, which campaigns against the project.
"Now private millionaires and crony corporations – who had egged on the project with promises of donations – want back even the little money they put in. And they want Londoners to pay for them."
© London Intelligence 2018
London Intelligence ® is a registered trademark of London Intelligence Limited.