High Speed 2: Erasing the Living, Raising the Dead
By Paul Coleman
Britain's new high speed railway erases settled ways of life for thousands of people. Grimly, it also raises thousands of dead people out of the ground too.
High Speed 2 (HS2) disrupts the lives and menaces the businesses of thousands of people along its London-Birmingham route. The railway even involves the mass exhumation of the bodies and remains of an estimated 61,000 people from their 'final' resting place at St James' Gardens in the north London borough of Camden.
As the autumn leaves fall in 2018, St James' Gardens, a hitherto largely undisturbed 18th and 19th century cemetery – and a public garden used by Londoners since the Victorian era – is destroyed to make way for HS2's new terminus at London's Euston Station.
Regents Park Estate
HS2 also requires and forces through the demolition of 168 of Camden's council homes on the Regents Park Estate – despite fierce opposition from local residents and community groups.
The HS2 project shunts dozens of resident tenants and leaseholders out of their homes, some compelled to live in newly-built replacement homes. New homes might seem good, except these new units are built on children's play areas and green spaces on a council estate situated in one of London's most built-up localities.
The HS2 compensation scheme also is known to have bypassed a small quotient of long-standing local residents. HS2 even calls 'last orders' on a landmark local pub, the Bree Louise, ripping up a part of the local community's social fabric.
Green oasis
HS2 Ltd, of course, does not puff its project in this way. Chunks of Melton Street's hoardings are clad with HS2 propaganda, showing images of smiling local people. These images give an impression that everyone is at peace now with HS2 and its London Euston terminus.
Politicians in Parliament approve HS2 in 2017. They give hefty statutory powers to High Speed 2 Limited (HS2 Ltd), the company delivering the railway, including that power to dig up the dead.
HS2 Ltd choruses 'all human remains will be treated with due dignity, care and respect'. The company claims it is 'working with the Church of England and the local parish to put appropriate plans in place for reburial'.
Yet upset garden users post grievance notices on the condemned trees, protesting: 'High Speed 2 will cut down this tree and every tree in St James' Gardens and along Cardington Street and destroy this little green oasis. Gone forever. RIP.'
Fleece
However, Alfonso personably amplifies an impression that everyone is happy with HS2. Alfonso stands outside Euston Station, looking like a 'charity mugger' in his lime HS2 cap and his bottle green fleece that proclaims his role, 'Happy to help, ask any questions'.
Alfonso works as a 'customer services agent' for one of HS2 Ltd's suckling legion of sub-contractors and consultants. Competing with ambulance sirens and pounding Euston Road traffic, Alfonso dutifully spouts HS2's message. "The burial ground, I don't know too much about it; but I'm sure HS2 Ltd have got it all under control," says Alfonso.
"This railway is going to be great for the economy and the local community."
Encapsulation
I leave Alfonso to his 'community engagement' task and walk along Melton Street towards HS2 Ltd's 'encapsulation structure'. This scaffold shed supports an 11,000 square metre canvas-clad roof over an excavated St James' Gardens'. This roof protects a clod of archaeologists who begin scraping at coffins and body remains in the autumn of 2018.
Adjacent to this now grim site sits a bizarre roadside yard full of yellow skips, some filled with flowers, others clogged with weeds. Welcome to the neo-blandly titled 'Community Garden'. It's an ironic label given HS2 Ltd's destruction of the former idyll at St James' Gardens just a stone's throw away.
The cemetery at what is now Euston grew as the parish of St James's in Piccadilly responded to its scandalous lack of burial grounds in the 18th and 19th centuries. The parish began recorded burials at the then 3.4-acre green field site in 1790. Burials at St James' Gardens ended in 1853.
Aboricide
Late 19thcentury changes to Euston Station led to the partial removal of many bodies but the rest of the cemetery became a public garden in the summer of 1887. Thus it remained until the 21stCentury; a quiet oasis for restless living Londoners to peacefully enjoy their lunchtime and for 61,000 souls to rest permanently in peace.
But, by late 2018, HS2 Ltd permanently blocks access to St James' Gardens along Cardington Street. The 100 century-old trees are soon felled; an act that some local campaigners condemn as 'aboricide'.
The gardens too are now expunged from London's landscape. The area becomes a building site, fortressed by gates and hoardings and patrolled by scowling security guards in ubiquitous hi-viz jackets.
Sweetland
The taxpayer-funded £27 billion 225-mph railway is the UK's largest and costliest infrastructure project – and reckoned to be one of the world's most expensive ever railways.
The London-Birmingham first phase tab works out at more than £800 for every man, woman and child in the UK. Much of this cost is because HS2 Ltd must compulsorily purchase the land over which the railway will be built.
Such a vast programme of compulsory purchase is disrupting thousands of homeowners and forcing many businesses to relocate. For instance, HS2 is a nightmare for the Haddad family that runs the Sweetland bakery and shop at Park Royal in north-west London. Sweetland Limited and its 50-plus employees hand make and bake 10 million Baklawa, Petit Fours and other pastries a year. Houssam Haddad founded the business in 1997 that he now runs with his brothers Akram and Wassim.
Coerced relocation
Like all businesses on the HS2 route subject to a compulsory purchase order, Sweetland has to fund its own moving costs and justify any compensation claim. Like other businesses, they only get three months notice to move out. The company says it has received £2m in compensation from HS2 Ltd but claims this is just half of what it says the business needs to cover the costs of its coerced and disruptive relocation.
The Haddads mortgage their homes to invest in the business' post-HS2 survival. Debt interest on loans set the company and the Haddads on a race against time to keep the business alive.
"A small business just doesn't have its own cash flow to keep going all the time, let alone build a new factory," says Sweetland's chief executive Andrew Prodromou. "None of this is fair, but HS2 has the power to do whatever it wants."
Refuse entry
HS2 Ltd chief executive Mark Thurston says "it is not the intention of HS2 to bankrupt any business". Thurston says land acquisition involves complex issues and multiple legal titles that need to be settled promptly.
"We've got to acquire around eight to ten thousands properties and we need to reconcile the need to acquire the land and make it value for money," says Thurston. "That means we try to give people a fair price for their property."
Some businesses in Birmingham, told by HS2 to move out within three months, simply lock their doors and refuse entry to officials serving HS2 Ltd's CPO process. But that only delays the inevitable moment when a corporate project, like HS2 – given blanket legal power by the State – descends on their businesses to seize their premises and land.
Some much larger fish are also ensnared in HS2's State-backed corporate land grab. Michael Gross of the Euston Estate – the owner of the land on which the existing Euston Station sits – found his land subject to the UK's biggest ever compulsory purchase.
Gross claims HS2 Ltd's valuation of his land grossly undervalues the site's development potential value by "hundreds of millions of pounds". "Getting the land at the best possible value (for the taxpayer) doesn't mean getting it on the cheap," complains Gross.
Misleading
HS2 Ltd, now a bloated parastatal with 1,500 staff, also faces criticism for failing to tell the British people through Parliament about the high speed railway's true cost. Expert analysts now estimate the final cost of this first HS2 London-Birmingham phase could overrun to as high as £60bn.
Whistleblowers, like HS2 Ltd's former land and property director Doug Thornton, say HS2 Ltd is overspending on the project's land acquisition budgets. Outdated desk-based financial models underestimate how much taxpayers will be charged for funding HS2 Ltd's land grabs between London and Birmingham.
Members of Parliament also stand accused of failing to demand HS2 Ltd provide detailed estimates of its likely land acquisition costs.
Magnitude
Thornton says 6,000 land parcels have been added in a "slapdash" fashion to HS2. Their values were underestimated too. "Typically, houses would be underestimated by £100,000 or even £200,000," says Thornton. "In more complex cases, the underestimates would be in the magnitude of several million. It's a complete and utter nightmare."
Thornton refuses to use the outdated lower total underestimate when presenting to HS2 Ltd's non-executive board. "If I used the figure I felt I would be personally misleading the board," recalls Thornton. "I was not prepared to put myself in that position. I wanted no part of that and would not do it. So I walked out of the building and took leave."
The company later dismisses Thornton in 2015. Thornton says the figures seen by MPs when they considered approval of HS2 heavily underestimated the real cost of land acquisition – and a BBC Panorama documentary says another whistleblower blames HS2 Ltd for failing to present higher estimates to Parliament.
Perfectly normal
HS2 Ltd chief executive Mark Thurston defends the company and the project against these whistleblower claims. Thurston says the company is simply acquiring piecemeal a more detailed understanding of the route and of the land needed by the railway.
"It's perfectly normal for a project of this scale," says Thurston, who joined HS2 Ltd as CEO in March 2017. "We continue to evolve those figures from those early estimates."
But HS2 Ltd's lofty dismissal of such claims fails to convince many. Even the Church of England is unhappy with HS2. In August 2017, Anne Stevens, vicar of St Pancras Church, conducts a memorial service for the 61,000 souls buried at St James' Gardens; but Stevens also spices her sermon to "take the opportunity to pray for the living as well as the dead".
HS2 Ltd
Despite such criticism, HS2 Ltd gushes that 'High Speed 2 will be the backbone of a new High Speed Britain and an engine for growth in the 21st Century'.
HS2 Ltd says the project will create 100,000 new jobs and boost the UK economy by billions of pounds. Rail journey times for business travellers between Birmingham and London will be reduced.  Rail capacity will be expanded on the existing network.
Such golden eggs, HS2 Ltd says, ingredient an irresistible economic growth omelette.
National interest
HS2's backers dig up an old litany to justify the scheme; that to make a cost-beneficial omelette you've got to break a few eggs – and so HS2 must fell trees, destroy public gardens, demolish hotels, and eradicate jobs, livelihoods, shops, pubs, homes and exhume and shift the remains of 61,000 people.
HS2 Ltd calls itself an 'executive non-departmental public body, sponsored by the Department of Transport' and functioning with 'commercial partners'. In reality, HS2 Ltd is the spawn of a powerful marriage between corporate Capital and those politicians in Downing Street, Parliament and in town halls that loyally serve these powerful corporate interests.
Of course, none of these interests voice their involvement and support in such terms. They coat HS2 with glossy references to the 'national interest', 'the future of Britain' and 'growing the high speed economy of Britain PLC'.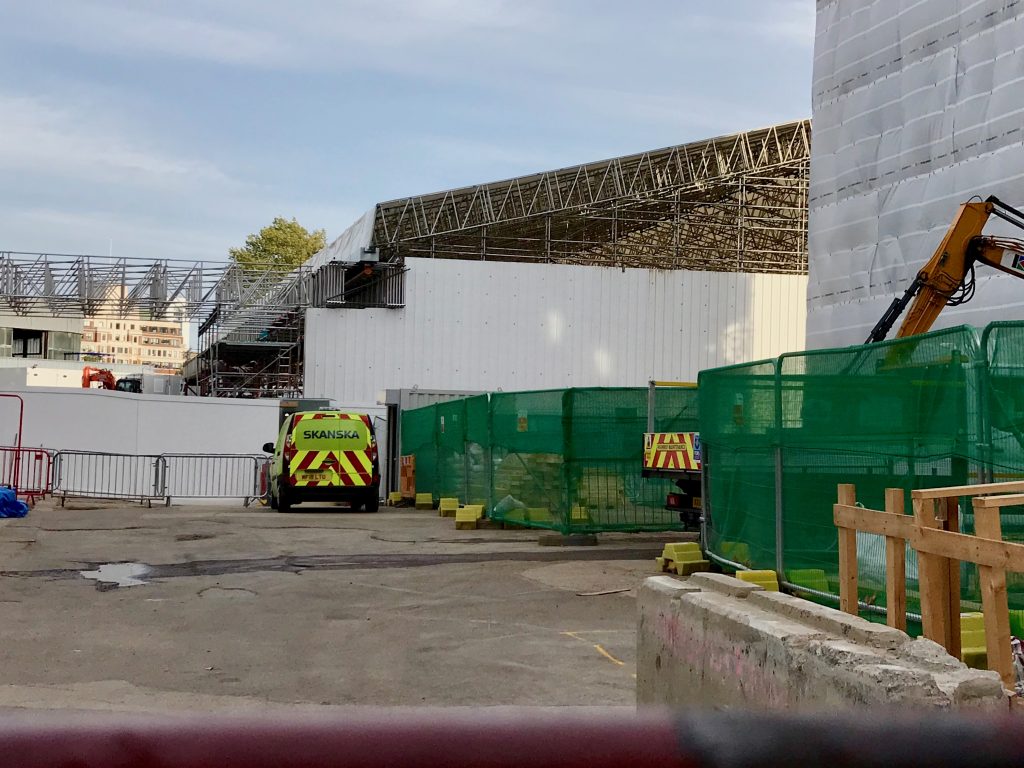 Mutiny and vanity
Opponents say HS2 Ltd is siphoning taxpayer billions to create a 'fast railway for fat cats'. People up and down the planned line, including in north London, say such money should be invested in improving existing rail lines and on boosting Britain's under-funded and stretched public services.
This angry court of public opinion pressurises more politicians to mutiny against the HS2 love train. Compelled by local peoples' bitter opposition to HS2 across the southern part of the borough of Camden, Labour MPs Sir Keir Starmer (Holborn and St Pancras) and Tulip Siddiq (Hampstead and Kilburn) speak out and vote against HS2.
Opponents counter the UK rail network would better gain extra capacity via strategic route electrification. Rebuilding the economy of the West Midlands and the North of England, they say, requires targeted investment in apprenticeships, skills training, quality manufacturing and secure jobs – and not a vanity railway that simply catcalls Britain is catching up with China, France, Germany and Spain on high speed rail.
Zombie relic
So what does HS2 really represent?
Chiefly, HS2 exists as a Zombie relic of New Labour's neo-liberal thinking and financialised imaginings; that 'the market knows best and the state must support what the market wants at whatever cost to local communities'. Labour peer Andrew Adonis is one of many who advocates this approach to major infrastructure projects – and he finds more than willing cheerleaders in the shape of successive Conservative transport secretaries since 2010.
HS2 is also testimony to a blind faith that railways always bring growth and goodness – even when such a project blows billions of taxpayers' money in an austerity era when real cuts to hospitals, schools and police officers are still hurting people across the country. Such questions are now often posed. Is it really worth spending all of this public money to shave a few minutes off the London-Birmingham journey time for a few business travellers? Who will really benefit from HS2? Why are social and community impacts not measured against economic costs and benefits?
Also, given such controversy, why is HS2 still happening? Firstly, the British political remains resolutely contemptuous of the general populace over which it lords its power. Extra-parliamentary opposition to HS2 dissipates during 2018 – as the entire country becomes wholly distracted by Brexit and the farcical party political pantomime spawned by the false 'nation or bloc' choice.
Meanwhile, HS2 construction cranks up on a 24/7 schedule.
Gravy train
Looking ahead though, momentum for HS2 may yet run out of political steam if the UK economy hits Brexit buffers or if global finance, as increasingly predicted, worryingly tips the real world economy into a 2008-type meltdown crisis once again.
In the meantime, businesses, homes and families will continue to be forced to hurriedly move and rent or buy new premises and homes at inflated property prices. Upward pressure on land prices and construction costs will further drive up HS2's price tag.
Even if the London-Birmingham leg of HS2 is completed, the cost of the Birmingham-Manchester-Leeds-Sheffield elements will likely be proportionately even higher. MPs must still approve those sections but people living in their homes and running businesses near those proposed routes are already worried.
Grand national
Some unpleasant certainties will persist. HS2's dust-kicking construction lorries will continue to pound through the roads of the north London borough of Camden for years, even decades, causing congestion, pollution, accidents and noise.
As for the 61,000 souls whose bodies lay buried twenty deep in St James' Gardens, they are not alone. Archaeologists start to scape at between another 6,000 and 18,000 more bodies and remains at a burial ground on Curzon Street, the site for the HS2 station in Birmingham.
Pardon the pun, but the usual suspects are already riding this High Speed 2 gravy train scheme – the big accountancy firms, architects, banks, construction companies, global property developers, engineering firms, absentee landowners, lawyers, and surveyors.
HS2 Ltd's promotional propaganda fountain might continue to gush that High Speed 2 primarily serves a grand national purpose. Yet, in truth, High Speed 2 serves the needs of a much narrower strata of global corporate interests.
© Paul Coleman, London Intelligence, 2018.
London Intelligence ® is a registered trademark.