HS2: raising the dead and razing a community
By Paul Coleman
Big money conjures up enormous power, even the clout to dig up thousands of dead souls from their graves. Naked statutory power given to High Speed 2 (HS2) Limited by the State, via politicians in Parliament, allows the parastatal to mass exhume the bodies and remains of an estimated 61,000 people near Euston in central London.
The bodies and remains lie in St James' Gardens, a hitherto largely undisturbed 18th and 19th century cemetery and a tranquil garden enjoyed by the public since the summer of 1887.
Alfonso works as a 'customer services agent' for one of HS2 Ltd's suckling legion of sub-contractors and consultants. His job involves standing outside Euston Station, looking like a 'charity mugger' in his lime HS2 cap and his bottle green fleece that proclaims his role, 'Happy to help, ask any questions'. Competing with ambulance sirens and pounding Euston Road traffic, Alfonso spouts HS2's message. "The burial ground, I don't know too much about it; but I'm sure HS2 Ltd have got it all under control," says Alfonso. "This railway is going to be great for the economy."
HS2 Ltd, the spawn of a powerful marriage of corporate Capital and the State – and now a bloated para-statal with 1,300 staff – is building the taxpayer-funded £60 billion High Speed 2 railway between London Euston and Birmingham (although some estimate the cost of HS2 will run to well over £100bn). The company deems St James' Gardens as an inconvenient impediment – and that's not just the 61,000 bodies and remains. Some 100 century-old trees, and lots of inconveniently placed and still living local people, simply must not be allowed to stand in HS2's way.
*
*
St James' Gardens
The cemetery at what is now Euston grew as the parish of St James's in Piccadilly to the south responded to its scandalous lack of burial grounds in the 18th and 19thcenturies. The parish began recorded burials at the then 3.4-acre green field site in 1790.
Burials at St James' Gardens ended in 1853. Late 19thcentury changes to Euston Station led to the partial removal of many bodies but the rest of the cemetery became a public garden in the summer of 1887. Thus it remained into the 21stCentury, as a quiet spot for restless living Londoners to peacefully enjoy their lunchtime and for 61,000 souls to rest permanently in peace.
I walk along Melton Street hoping to see what HS2 Ltd calls an 'encapsulation structure' that it is building over St James' Gardens' excavated topsoil and overburden. Basically, it's a scaffold shed with an 11,000 square metre canvas-clad roof to protect archaeologists who will be scraping at unearthed coffins and body remains. Adjacent sits a bizarre yard full of yellow skips, some filled with flowers, others clogged with weeds. Welcome to HS2's neo-blandly titled 'Community Garden', bitterly ironic given HS2's destruction of St James' Gardens just a stone's throw away. The thought arises; ill-advisedly spend a desperate penny on a gravestone and risk an appearance before a magistrate for desecration but exhume an entire cemetery to help build a £100 billion potential white elephant railway and your act will be endorsed as state-sponsored archaeology.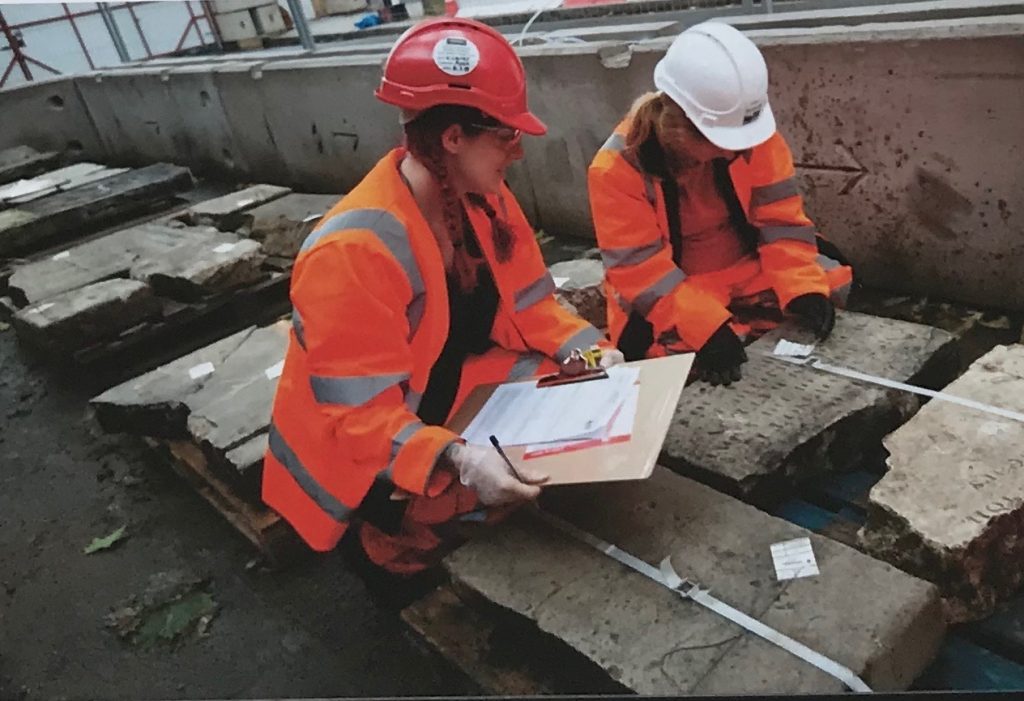 'Aboricide'
To complete its London Euston terminus, HS2 also entails the demolition of 168 council homes in three blocks on the Camden Council-owned Regents Park Estate – forced through despite fierce opposition from local residents and community groups. HS2 has already shunted dozens of resident tenants and leaseholders out of their homes, some compelled to live in newly-built replacement homes. New homes might sound good, except these new homes are built on children's play areas and green spaces on a council estate situated in one of London's most built-up localities. The HS2 compensation scheme also is known to have bypassed a small quotient of long-standing local residents. HS2 has even called 'last orders' on a landmark local pub, the Bree Louise, ripping the local community's social fabric.
HS2 Ltd, of course, don't present it that way. Chunks of Melton Street's hoardings are clad with HS2 propaganda, showing images of smiling local people, giving an impression that everyone is at peace now with the Parliament-approved HS2 and its London Euston terminus.
HS2 Ltd has also permanently blocked access to what was St James' Gardens along Cardington Street. The 100 trees are now felled; an act that some local campaigners condemn as 'aboricide'. The 61,000 dead must go too. The garden itself is now a scoured building site, fortressed by gates, hoardings and ubiquitous security guards in hi-viz jackets. The canvas roof covers the 'encapsulation structure'; it's hard enough to believe 61,000 people are buried there, harder still to comprehend their being dug up.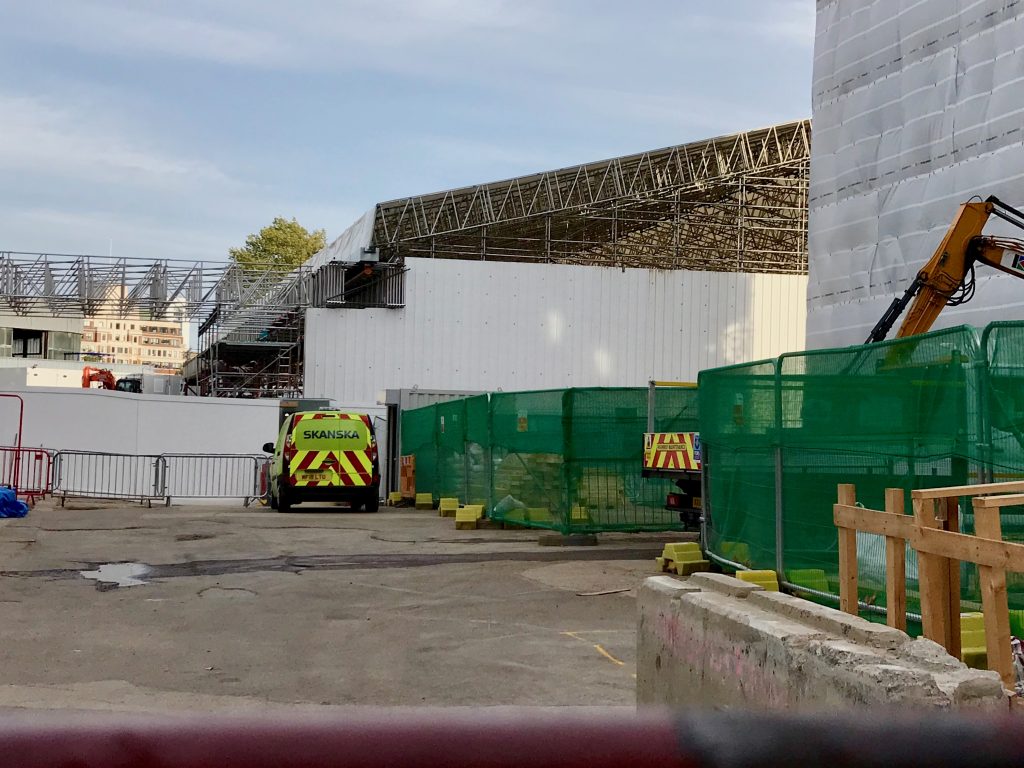 The Church of England isn't too happy with this HS2 marriage of Capital and State either. In August 2017, Anne Stevens, vicar of St Pancras Church, conducts a memorial service for the 61,000 souls. Stevens spikes her service to "take the opportunity to pray for the living as well as the dead". Naturally, HS2 Ltd choruses 'all human remains will be treated with due dignity, care and respect' and claims it is 'working with the Church of England and the local parish to put appropriate plans in place for reburial'.
But the moral of the tale is that neither the living nor the dead can really rest in peace in London's dividend-ravenous political economy. HS2 Ltd commands the British taxpaying public to rejoice that HS2 will lay golden eggs of economic growth for a UK economy beleaguered by the cloying residues of the financial crisis, a decade of austerity and an impending 'no deal' Brexit. Such golden eggs, HS2 Ltd says, will ingredient an irresistible economic growth omelette – the reduction of journey times for business travellers between Birmingham and London, and expanded capacity on the existing rail network. Eventually, HS2 will reach Leeds and Manchester at some point in the 2030s.
HS2 Mutiny
HS2's backers dig up an old investment leverage litany; that to make a cost-beneficial omelette you've got to break a few eggs – and so HS2 must fell trees, destroy public gardens, and demolish hotels, jobs, livelihoods, shops, pubs, homes and exhume and shift the remains of 61,000 people.
Pressured though increasingly by an angered court of public opinion, more politicians are calling for mutiny against HS2. Opponents counter the UK rail network would better gain extra capacity via strategic route electrification. Rebuilding the economy of the West Midlands and the North of England, they say, requires targeted investment in apprenticeships, skills training, quality manufacturing and secure jobs – and not a vanity railway that simply catcalls Britain is catching up with China, France, Germany and Spain on high speed rail.
But for HS2 Ltd, such truths must never challenge its conception of 'progress' nor must any other physical barrier impede the building of HS2's London terminus over a swollen Euston Station footprint. Enough people, it must be acknowledged, swallow HS2 advocates' superficially persuasive argument that throughout history – whether in Britain the United States or China – railways have delivered investment, economic growth and jobs.
Dust-kicking
Yet HS2 exists as a Zombie relic of New Labour's neo-liberal thinking and financialised imaginings; that 'the market knows best and the state must support what the market wants at whatever cost to local communities'. Labour peer Andrew Adonis pioneered this train of thought (no pun intended) and found automaton echoers in the shape of successive Conservative transport secretaries since 2010. Profit and loss benefits – rather than social and community costs and benefits – are the sole measures applied to determine whether a scheme goes ahead. The destruction of part of Camden and decades of dust-kicking construction lorries pounding the borough's roads will be a testimony to this blind faith conception of a railway that somehow blows billions of taxpayers' money in an era when cuts to hospitals, schools and police officers are still austerity's order of the day.
Not all politicians though are on board the HS2 love train. Compelled by local peoples' bitter opposition to HS2 across the southern part of the borough of Camden, Labour MPs Sir Keir Starmer (Holborn and St Pancras) and Tulip Siddiq (Hampstead and Kilburn) spoke out and voted against HS2.
Gravy train
Overall momentum for HS2 may yet run out of political steam if the UK economy hits Brexit buffers or if global finance, as increasingly predicted, worryingly tips the real world economy into crisis once again. Euston Station could yet be simply given the more simplified modification it direly needs.
As for the 61,000 souls whose bodies lay buried twenty deep in St James' Gardens, they are not alone. Between 6,000 and 18,000 more bodies and remains will be removed to make way for the new Curzon Street station at the Birmingham end of High Speed 2.
The gravy train of archaeologists, backed by the State and corporate Capital, will arrive at their graves too.
© Paul Coleman, London Intelligence, 2018.
London Intelligence ® is a registered trademark.