Monday (10 December) turns out to be another significant day in London's housing boom for a few and housing crisis for the many, writes Paul Coleman.
Politicians operating London's market state at city-wide and borough levels continue to make it easy for London's public land to be seized by elements of the global real estate complex.
Local residents and traders in Tottenham and at the Elephant and Castle face an uncertain future after two major 'redevelopment' schemes receive political backing.
*
Elephant & Castle Shopping Centre
More than 100 traders face losing their south London shops and stalls after Mayor of London Sadiq Khan – a New Labour remnant  – reportedly approves Delancey's proposed £2 billion demolition and redevelopment of the 75-year-old Elephant and Castle Shopping Centre.
Only 33 independent traders might be offered space in Delancey's planned new development – and such space is not guaranteed either.
Local resident campaigners – and students at UAL's London College of Communication – also oppose Delancey's scheme on grounds that out of 979 new homes only 116 will be 'social rented'. Students earlier in the year had occupied their UAL college in protest at the inclusion of a new campus in the scheme. They say the new campus comes at the expense of  new council and social housing in Southwark, the south London borough where thousands of working class households suffer from an acute shortage of genuinely affordable housing.
Southwark Council politicians, driven by council leader Peter John – another New Labour remnant – granted permission for Delancey's scheme in July 2018.
Opponents of Delancey's scheme will protest at Southwark Council's HQ (Wednesday 12th December) when Delancey present politicians with proposals for what protestors say is an inadequately small temporary retail centre at Castle Square. The temporary centre is earmarked for Shopping Centre retailers who will be displaced by the wider scheme.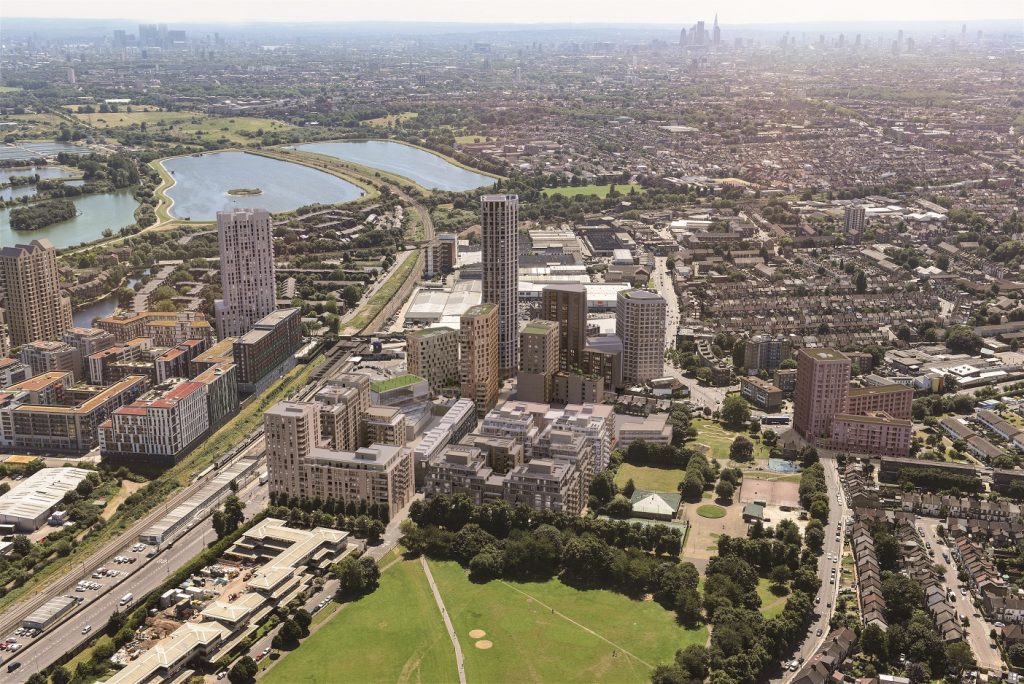 Tottenham Hale

Later, that same evening (10 December), politicians on a Haringey Council planning sub-committee narrowly approve (6 votes to 5) a scheme by developer Argent for a high-density, six-tower scheme of predominantly unaffordable 1,036 luxury flats at Tottenham Hale in north London.
Argent's 'Tottenham Hale Centre' towers, with one block at least up to 38 storeys, includes just 51 'social rented housing' units,  another 80 at 'London Living Rent' (higher rents than social rented), and 108 'shared ownership' homes.
The scheme also contains an option for Haringey, now led by Council leader Joe Ejiofor, to buy 131 'council owned social homes', possibly for offer at 'social rent'. Local resident housing campaigners say Haringey Council owns 60% of the land and that Ejiofor, who sat in the public gallery for some of the planning meeting, should demand that at least half of the new homes be council homes. Such housing should then be allocated to some of the thousands of working class families on Haringey's housing list who desperately need genuinely affordable homes.
However, some councillors on the committee fear a 'viability review' could lessen Argent's final 'affordable' quotient obligation to as low as 9%. Such a reduced quotient would even include 'affordable' shared ownership homes that are unaffordable.
Resident campaigners also say the Argent scheme lacks play, school and leisure facilities for children and younger people.Argent says 'the six-year development project…will give Tottenham Hale the reinvigorated district centre it deserves, creating a welcoming, pedestrian-friendly heart, greened with around 70 new trees, for local residents, workers and visitors to enjoy'.
Argent, who developed King's Cross, sends dozens of its employees to Haringey's Civic Centre to hear the decision. Planning officers at Haringey had earlier recommended that planning committee councillors approve the plan.
'Regeneration' politics

The 'regeneration' politics of the Tottenham Hale decision further deflates hopes that an Ejiofor-led Haringey Council – initially dubbed by some more hopeful observers as the 'Momentum' or 'Corbyn Council' –  will prove radically different to the Council's previous and now deposed administration led by Claire Kober and Alan Strickland, also New Labour remnants.
Ejiofor and his new council administration had raised hopes by responding to concerted protest and legal pressure from resident campaigners to  ditch the Haringey Development Vehicle (HDV), Kober and Strickland's now defunct partnership with global – and Heygate –  developer Lendlease. The HDV would have transferred a vast array of council estates, publicly owned land and other council-controlled assets to a company controlled effectively by the Australian-based developer.
However, a legal settlement between Ejiofor's Haringey and Lendlease over the demise of the HDV seems to pave the political way clear for Lendlease to plough ahead with its 'High Road West' (HRW) scheme. If allowed to proceed, HRW will obliterate 297 Love Lane Estate council homes and threaten 35 Peacock Industrial Estate businesses and the hundreds of jobs they support. The Love Lane Estate and the Peacock Industrial Estate sit between Tottenham Hotspur's new stadium and a redeveloped White Hart Lane railway station.
Long-established Love Lane residents and Peacock estate businesses face the prospect of being sacrificed to the corporate  imperatives of Tottenham Hotspur Football Club and global developer Lendlease. The Premier League club wants a fans pedestrian walkway to be built from the station right through the Love Lane estate to its new 61,000-seater stadium and adjacent luxury high-density housing development. Kober and Strickland agreed that Lendlease and Haringey sign up as partners in the HRW scheme to redevelop Love Lane and the Peacock with mainly luxury apartments. Earlier, they had driven the Council to support the football club's new stadium and housing development even though it contains no 'affordable' and social or council housing.
However, Mayoral funding for the demolition and redevelopment of Love Lane is now conditional on residents – at least, those that still remain – voting significantly in favour of the 'regeneration' via an estate residents' ballot.
Pressure on Khan from the national Labour Party leadership under Jeremy Corbyn forced Khan to adopt the ballot funding condition. Corbyn personally faced pressure from resident campaigners and Labour community activists throughout 2017 to take a critical stance against developers and to adopt estate regeneration ballots as Labour policy.
Refurbishment
Given Mayor Khan's support so far for large-scale developer-led schemes, it seems likely that Khan will favour Argent and its Tottenham Hale Centre scheme. Ballots aside, resident campaigners despair that Khan remains politically welded to developers and the real estate industrial complex by agreeing to publicly fund developers and their unwieldy, high-density and risk-laden schemes.
Many such schemes result in no new council homes at all or a net loss of council housing. Campaigners cite Lendlease's controversial demolition of 1,034 council homes at the Heygate Estate at the Elephant and Castle as the prime example. Of 2,074  new homes Lendlease are building at 'Elephant Park', just a meagre 82 will be social rented. Similarly, Notting Hill housing association is demolishing 2,402 council homes at the nearby Aylesbury Estate. Of 3,575 new homes, just 1,471 are due to be offered at social rents.
Campaigners against such 'regeneration' schemes say much existing council housing across London could be refurbished for less cost.
Pursuing refurbishment options would allow working class families to stay in London where their families have lived for generations – and this would preserve London's traditional economic, cultural and community fabric.
© London Intelligence ® December 2018