Thousands of tower block residents across Britain remain at risk exactly one year after the catastrophic Grenfell fire in west London.
A fire chemistry expert warns of dire consequences if the government fails to tackle combustible materials on tower blocks. "If these issues are not addressed, we are going to see another Grenfell," says Professor Anna Stec. "And we are going to see it soon."
Professor Stec, a specialist in fire chemistry and toxicity at the University of Central Lancashire, speaks out after her call for a ban on flammable cladding being placed on tall buildings is over-ruled by Dame Judith Hackitt's review of building and fire safety regulations. The government had ordered the review in the wake of the Grenfell fire on 14 June 2017 that killed 72 people, injured 70 and rendered hundreds homeless.
Contradicting Hackitt's review, the government states in May 2018 it is 'minded' to ban the use of combustible materials in cladding systems to cover high rise buildings – once a 'consultation' has taken place.
But that still leaves 159 council and social housing buildings clad in materials similar to those that primarily led to the Grenfell fatalities.
Patrol
Thousands of residents – council and social housing tenants but also private owners and buyers – still live in buildings clad with cheaper unsafe flammable Aluminum Composite Material (ACM).
Local authorities and housing providers tell residents ACM is installed to protect energy saving insulation but, in reality, ACM is a cheaper way to cosmetically improve the appearance of a building.
Local housing authorities and social housing providers now tell residents in some cases it will take up to two years to remove and replace such combustible cladding. In the meantime, 'fire marshalls' patrol these developments to watch out for fires.
ACM is the kind of cladding system that principally led to Grenfell – the worst residential building fire in Britain since World War II.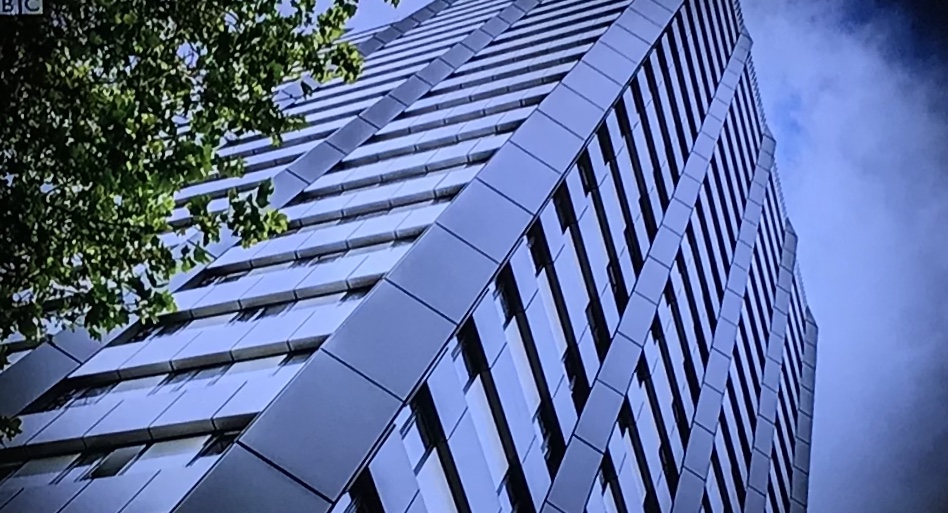 Cladding removal
By June 2018 – one year after Grenfell – ACM cladding is removed from only ten council and social housing buildings. Ministry of Housing, Communities and Local Government figures, counting up to 22 May, show cladding removal starts on 107 council and housing association high rises. This represents 67% of the total number of dangerously clad council and social housing buildings higher than 18 metres identified since Grenfell.
In total, 311 buildings are clad with ACM deemed to be a fire hazard. Of these, 159 are those council and housing association residential buildings and 138 are private residential buildings, including hotels and student accommodation. The remaining 14 are publicly owned, amongst them schools and hospitals.
In May 2018, Theresa May announces £400 million of 'new funds' to pay for work already completed. But controversially the money will come out of the current round of Affordable Homes Programme money for housing associations. Government tells local councils they can borrow extra money to fund cladding removal and remediation.
Not fit for purpose
Owners of private residential tower blocks will have to pay for cladding removal – though many have tried to pass these costs onto leaseholders through service charge hikes.
Dispatches features Kathy Adcock, a public sector worker, who bought a shared ownership 'affordable home' in east London – co-owned by a housing association – due to the astronomical cost of local housing. Adcock, as a leaseholder, is liable for an annual service charge to help maintain the development. But that charge now includes an additional cost to tackle the Grenfell-style cladding on her block, which could take several years and cost £2 million. Fire marshalls patrolling this development cost £20,000 a week.
"I'm stuck living in an unsafe building that is now unaffordable," says Adcock. "I'm not from a privileged background and I worked so hard to get here – and then I happened to choose a building which is not fit for purpose. And there's nothing I can do about it."
Ban
Professor Stec is one of ten members of a working group that looked at materials, products and testing on behalf of Dame Judith Hackitt's review of building regulations and fire safety – a review ordered by the Prime Minister immediately after Grenfell.
Dr Stec says a majority of those on the working group on materials, products and testing wanted an outright ban on combustibles but were overruled by the chairman as a 'consensus' was needed.
Hackitt's review, therefore, is quickly going down in history as a dangerously missed opportunity and a waste of precious time – especially as Hackitt's final report fails to ban combustible materials on high rise residential buildings.
"I was very disappointed because minor issues somehow managed to go through as recommendations," says Dr Stec, speaking to reporter Ed Howker on a Channel 4 Dispatches documentary, After Grenfell: How Safe Are We?
Other materials
Former builder Lord Porter, now chair of the Local Government Association, says the government is also failing to audit all of the material on Britain's tower blocks. "We need as a country to have an understanding of every single high rise building and the materials that are on it," says Porter.
"It is almost guaranteed that it not just one product that is dangerous. The problem is that we don't know which other buildings are covered in which other materials."
But Porter says the government seems only interested in ACM.
Dispatches also claims a confidential source says the government is warned after the fire to urgently find buildings fitted with materials other than ACM. The government never began that search – and it is believed private sector buildings with such material are more difficult to find. "We (local authorities) can't just go and take a panel off someone else's building," says Porter.
Unclear
Howker's Dispatches documentary also reports on past failures to act on warnings about fire safety in tower blocks. Past fires include the death of a man at a 14-storey block in Irvine in 1999. The fire spreads up the outside of the building in ten minutes.
It prompts Scottish authorities to ban combustible cladding on high rises.
This ban applies only to Scotland.
The Welsh government says in May 2018 it will move to ban combustible materials on building exteriors.
The Lakanal House fire of 2009 begins in a ninth floor flat and spreads externally, killing six people including three children. The coroner's report into the Lakanal disaster, issued in 2013, warns the government that Part B of an approved external building fire safety document should be clarified rewritten.
Time to listen
Ronnie King of the All Party Parliamentary Group on Fire Safety recalls how the group wrote to a succession of government ministers urging the government to implement the coroner's recommendations following Lakanal House. Ministers told King and his colleagues that a review of building regulations would start and be completed in 2016-17.
But just two months before Grenfell, the Group again writes to the government saying: 'The Group firmly believes after being given a similar response by three successive Ministers since 2010, that it is now time to listen to what the Fire Sector is saying, and to get on with the promised review of Part B of the Regulations.'
King says: "The promised review of building regulations hasn't been completed. It never started."
Source: Channel 4 Dispatches, After Grenfell: How Safe Are We?
© London Intelligence 2018