The chairman of the Grenfell fire public inquiry says he is "struck forcibly…by the strong sense of community that existed within the Grenfell Tower". Survivors of the Grenfell fire and bereaved relatives are increasingly showing that strength with their vow to constantly pursue justice.
By Paul Coleman
The people of Notting Dale drape their their balconies and railings with bright green silk, the colour originally chosen by the children of this still shaken west London community to commemorate the 72 people killed as a result of the Grenfell Tower fire on 14 June 2017.
All of the people present tonight (Friday 14 September 2018) wear green scarves too. The names of the 72 deceased are read out, accompanied by a 'forever in our hearts' mantra softly chanted by hundreds of people gathered under the Westway flyover.
This solemn moment follows a 72-second silence where bereaved family members, fire survivors, local residents and other Londoners showing solidarity turn to face the Grenfell Tower. The tower is now covered with white safety sheeting and topped with green hearts and the memorial 'Grenfell Forever in our hearts'.
The people of this community have just finished their 15th monthly silent march – a dignified and moving procession through the streets of Notting Dale and Ladbroke Grove with passing pedestrians, commuters, bus drivers and motorists pausing to pay their respects.
Cladding
After these remembrances, those gathered hear from a resident of a council tower block in Salford, one of many such buildings still covered in cladding similar to that which caused the Grenfell Tower to lethally spread across its facades.
Many private tower blocks, student residences, buildings under 18 metres high, schools, hospitals and workplaces are still not fire-safe – despite the government providing £400 million to replace Grenfell-style cladding on tower blocks. Others with cladding removed will not be re-clad before damp and colder weather arrives this coming winter.
The government's housing secretary James Brokenshire has written to some 60 building owners and developers – including Lendlease, Pemberstone, Paddington Development Corporation and even a subsidiary of the Greater London Authority – GLA Land and Property –  that they face financial penalties and restrictions from government schemes if they do not remove dangerous Aluminium Composite Material cladding from their buildings. "There is a moral imperative for private landowners to do the right thing and remove unsafe cladding quickly, and not leave leaseholders to cover the cost," says Brokenshire.
But many people on the Grenfell silent march believe the actions of government, local authorities and private building owners are a classic instance of too little, too late. "It beggars belief that we live in a country where a government can allow people to live in such a building after what happened here at Grenfell," says Irene, an Islington resident showing solidarity with her fellow Londoners on the silent march.
Those gathered also vent criticism about Holborn Bars, the venue for the public inquiry chaired by Sir Martin Moore-Bick. Relatives and survivors say the inquiry rooms are too small to accommodate all those who want to attend. The venue's location between the West End and the City of London makes it more difficult for families to attend who live in this west London neighbourhood.
Amongst the still shaken people of Notting Dale seems to be a growing feeling of dissatisfaction with the public inquiry process.
Public inquiry
Karim Mussilhy sets the tone for the Grenfell Tower public inquiry with his powerful testimony in May.
At one point, an inquiry barrister seems to try to caution Mussilhy's forthcoming remarks. But Mussilhy refuses to be "censored".
The Grenfell Tower fire killed Mussilhy's beloved uncle, Hesham Rahman, aged 57, a hairdresser, who lived in flat 204 on Grenfell's 23rd floor.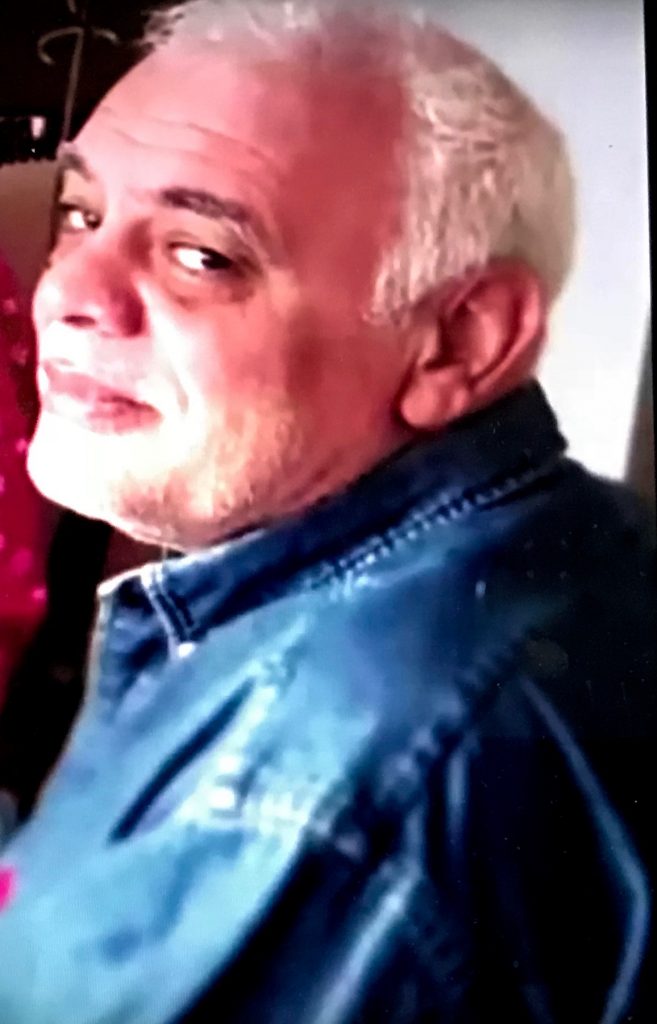 Deathtrap
Mussilhy, speaking at one of the inquiry's commemoration sessions, recalls his visit to the flat where his uncle died. "His (Hesham Rahman's) flat was unrecognisable. One big black room, with no windows and cracks all over the floor…
"Instead of a 'Hello, hi, uncle, how are you?' and a great big hug, I recited the Koran as I walked to the area where his remains were found…
"I remember saying, 'I'm sorry, uncle. I'm sorry you had to go through this. I'm sorry you were left alone to die in this deathtrap'.
"This last memory of my uncle is what is giving me the strength to stand here right now, to fight for justice and change, and I promise you it will come. I promise you it will…"
Stronger
The Grenfell Tower fire of 14 June 2017 killed 71 people. A 72nd resident died last January. The fire spread rapidly due to a flawed system of flammable cladding and insulation installed during a contentious refurbishment of the tower between 2014-16.
Rahman's sister, Noha, in a special film tribute shown on Tuesday 22 May, says of her brother: "Hesham was my best friend…kind…generous…poetic…and an amazing son to my mother."
Omar, Rahman's young nephew, adds: "He was the kindest man I have ever met. He meant the world to me. His personality made stronger every time I was around him. We would do so many fun things together. These things have sadly come to an end. It's hit us in the heart."
Justice and change
Mussilhy challenges public institutions and private sector companies who will have to explain their role before, during and after the Grenfell fire. "Only you, those in power, can make that change," says Mussilhy. "So listen to our stories and learn from your mistakes…
"We are here because there is a system of neglect, a system which allows individuals to show contempt for others and call it, 'just doing my job'…
"You can't just sweep this under the carpet. You can't hide behind rules and procedures no more. That's what allowed people to die."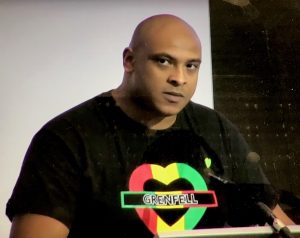 Institutional inertia
Mussilhy points out many buildings up and down the country remain clad in flammable material. "Right now, right this second while I'm talking to you, these materials are still on these buildings, the very same ones that killed our families, that killed my uncle," says Mussilhy, adding it has taken the government almost an entire year since Grenfell to even start talking about banning such cladding.
"Right now, right this second, this is how our families are being remembered," adds Mussilhy. "They are being remembered by a culture of neglect. Institutional inertia hiding behind a system that has failed."
Censored
"We want the truth, not bureaucracy," adds Mussilhy. "We want light to be shone on what went wrong and who is responsible. We do not want buck-passing, fancy technical arguments or any legal grey areas; we want an inquiry into the truth, the truth that people died because those in authority convinced themselves that they had done enough…"
At this point, Bernard Richmond QC, the barrister assisting this first phase of the inquiry, tentatively interrupts Mussilhy. "Karim, can I just – I have to be very careful here, and I don't mean to interrupt you, but some of what you're about to say is for the evidential hearings. I'm not going to stop you. I'm not going to stop you…"
To which Mussilhy simply replies: "I think, with all due respect, we've been censored enough. It's our time. Whether you like it or not, you will have to listen."
"Speak, brother," says a person from the floor of the inquiry.
Souls lost
Mussilhy continues to talk directly about the people working for the organisations involved in the system. "I ask you, the people to be held to account, go home tonight and hug your loved ones, cherish every single moment of it, because I hope and trust you feel safe in your homes, because we are still not.
"And when you're at home, I'd like you to remember not only my uncle, Hesham Rahman, I'd also like you to remember the 71 other souls we lost, their families and their friends. You have a duty to them…to the truth and not procedures.
"But I promise you, we will not let you forget."
Community
But what about the public inquiry – and, in particular, what of its chairman, Sir Martin Moore-Bick, who has promised survivors, bereaved relatives and residents: "We shall work until the truth is laid bare."
Moore-Bick has sat through seven days of moving commemorations for 67 of the 72 Grenfell fire's victims. He has seen and heard testimony and film tributes from bereaved relatives and friends.
The chairman appears to be genuinely moved by what he has seen and heard.
"I know I am not alone in finding the past few days both humbling and moving," says Moore-Bick when closing the first phase of the inquiry (Wednesday 30 May).
Special wisdom
Of the memorial portraits shared by bereaved families and friends, Moore-Bick says: "I am struck forcibly by many things; by the courage of all of those, young and old, who found the strength to speak about their loved ones with such depth of feeling and about the terrible grief they have suffered and continue to suffer at their loss.
Strong sense of community
"By the tragic waste of young lives cruelly cut short whose promise seemed boundless but remained sadly unfulfilled.
"By the loss of that special wisdom and support which those of mature years provided to their families and friends across the generations.
"By the quiet dignity in which the portraits were delivered.
"And, by the strong sense of community that existed within the Grenfell Tower."
Future answers
Moore-Bick acknowledges relatives, like Mussilhy, desire and demand answers. Moore-Bick's manner seems to move from detached reserve to genuine empathy. This suggests he is fully aware that the commemorations impose an even greater duty upon his inquiry team to get to the truth of why that horrific fire spread so rapidly – and that he must also be aware the Grenfell community want his inquiry to point out clearly who is to blame.
"No doubt those who have lost family members but who are too young to understand how such a painful loss might occur will in future wish to have answers to their own questions," says Moore-Bick, indicating his understanding of the ongoing legacy of such an inquiry.
"My team and I are determined to provide the answers that you seek."
The Grenfell Tower inquiry reconvened with evidential hearings on Monday 4 June at Holborn Bars, 138-142 Holborn, London, EC1N 2SW. Hearings are also streamed live to the Notting Hill Methodist Church, close to the Grenfell Tower and the Lancaster West Estate.
© London Intelligence 2018