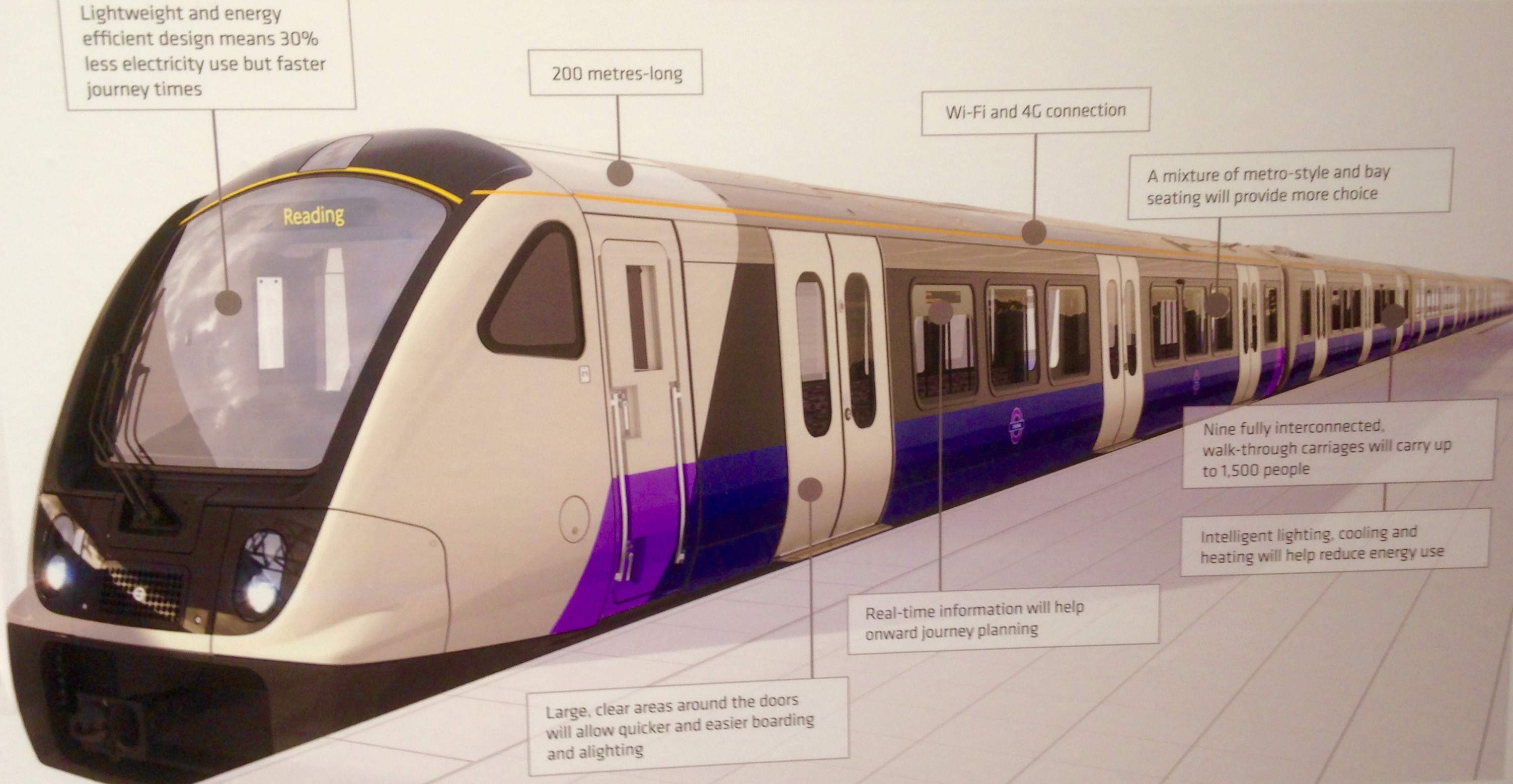 *
Trains will run on Crossrail's Elizabeth Line from autumn 2019. Stretching to over 118 kilometres (72 miles) of railway line and costing £15.4 billion, Crossrail is one of Europe's largest and most expensive pieces of new 21st century infrastructure.
Crossrail, an east to west London rail network running through Berkshire, central London, south Essex and north Kent, will fully open in December 2019 – fourteen years after Parliament first considered a Crossrail Bill.  The railway promises to bring an extra 1.5 million people to within 45 minutes of London's main employment, leisure and business districts.
Crossrail says the Elizabeth Line will increase central London's rail capacity by 10%, helping to ease congestion on London's existing rail and tube network and to reduce journey times for people who commute to and from London's core economic activity areas. For instance, commuters from the Berkshire town of Reading to the west of London will be able to reach Tottenham Court Road in London's West End in 55 minutes. Bankers at Liverpool Street at the heart of the City of London financial district will be able to reach Heathrow Airport to the west of London in just 41 minutes. Commuters in the eastern suburb of Harold Wood can reach Bond Street in 40 minutes.
The business case for Crossrail estimates the railway will produce £1.97 of benefit for every £1 of cost, through reduced journey times, reduced crowding on London's other public transport modes and quicker interchanges between services.
Crossrail estimates 200 million passengers a year will use new railway, accessing forty stations, including ten new interchanges at:
Paddington
Bond Street
Tottenham Court Road
Farringdon
Liverpool Street
Whitechapel
Canary Wharf
Custom House
Woolwich
Abbey Wood
Up to 1,500 passengers will be able to travel aboard a fleet of 66 trains that each consist of nine-carriages and measure 200 metres in length. Twenty-four trains will run at peak times in each direction through a central London tunnel section between Paddington and Whitechapel. Twelve trains per hour at peak times will run on a south-eastern surface branch between Canary Wharf and Abbey Wood. Similarly, 12 trains per hour will run on an eastern surface section between Shenfield, Stratford and central London.
Elizabeth Line trains will run as far west as Maidenhead, Taplow and Reading on a surface section. Two trains will start at Reading at peak times, two more at Maidenhead, two at West Drayton and four from Heathrow.
Construction
Eight tunnel boring machines spent three years carving 42km (26 miles) of 6.2 metre diameter twin-bore tunnels through London's clay. Crossrail tunnelling began in May 2012 and ended at Farringdon with the arrival of a tunnelling machine called Victoria. The tunnels weave their way between existing underground lines, sewers, utility tunnels and building foundations at depths of up to 42m.
Over 200,000 factory-built concrete segments line the tunnels. Some 15,000km of cable will deliver power, lighting and communications. Eighteen vent fans will circulate air.
Crossrail says railway, station and platform tunnel construction filled over 70 million working hours. It involved excavating seven million tonnes of soil; some that is used to create a wetland habitat for birds in Essex.
Pardon the pun but the boring part of Crossrail was never boring and, as a feat of civil and rail engineering, Crossrail – undeniably – takes some surpassing. However, Crossrail invokes crude social engineering that raises much concern.
(What does Crossrail mean for Londoners?)
*
*
© London Intelligence.