© London Intelligence ® Agency. All Rights Reserved. No re-use without licence.
Welcome to London's opulent Mayfair – famous for being the most expensive area on the Monopoly game board.
Global property developers, corporate estate agents and local council leaders quaff champagne and scoff canapés in Mayfair's Berkeley Square. They are clustered inside lavish marquees built beneath a canopy of London Plane trees.
Alexander Boris de Pfeffel Johnson, then Mayor of London, shuffles towards a podium. It is June 2013.
Johnson, then in his second mayoral term, wipes his nose with an index finger and begins a tub-thumping speech.
New York-born Boris Johnson heralds London's property boom as "one of the most exciting and important games of Monopoly ever played". *
Bigger
Eton-educated Johnson says London's real estate market represents a wonderful opportunity for "the galacticos and superstars of the real estate industry that is doing more than any other to drive jobs, growth and recovery in this city".
Boris Johnson extends his Monopoly metaphor. "There are people in this room who can genuinely claim that they have got Park Lane," thunders Johnson. "Who's got Piccadilly? Yes, Land Securities."
Johnson, once a member of the notoriously boorish Bullingdon Club, then booms: "And who's got the Old Kent Road? And why not?
"My friends, that's my message to you tonight. We're going to need a bigger revised Monopoly board for London."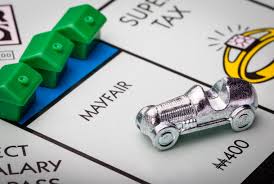 Winners
Johnson's Mayfair 'Monopoly' speech of June 2013 launches the inaugural annual London Real Estate Forum but receives no national mainstream media attention.
Meanwhile, far beyond the Mayfair marquees, in the real economy of London's streets and neighbourhoods, Londoners on average and lower incomes struggle to find genuinely affordable homes to rent, let alone buy. Prices and rents in 2013 have risen to over 7.5 times average earnings.
Average London house prices stand at £428,000, up from £351,000 in the the aftermath of the financial meltdown of 2008-09. Average London rents for two-bedroom flats are £1,521.
Roulette
Hence, London's unfettered property market has become a global casino boom for a wealthy few – a reality presided over by Mayor Johnson. are winners at this real estate roulette.
Overseas property investors, developers, corporate house builders, market-driven housing associations, architects, surveyors, construction sub-contractors, planning consultants, conveyancers, insurers, law firms, estate agents, landowners and corporate landlords are winners at this real estate roulette. They can announce handsome dividends for their shareholders and pay eye-watering bonuses to their directors.
Banks licking self-inflicted wounds after the financial crisis are also happy. Not only were they bailed out by taxpayers for their recklessness but much of these new real estate dividends now flow their way.
Mayfair itself is now home to predatory hedge funds that place profitable speculative bets on the real economy's winners and losers.
Property developers eye up places like the Old Kent Road for potential profit.
Losers
However, the vast majority of Londoners are losers in London's casino real estate economy. They face an increasingly chronic shortage of genuinely affordable homes.
A huge one in six residential properties newly built in London are sold to overseas private investors. There is little tax gain for Londoners' and their public services as real estate profit flows into offshore companies based in a network of tax havens dotted around the globe.
The financialisation and commodification of vast amounts of London's land and housing as speculative global assets fuels the city's gentrification – and the unravelling of working class Londoners' security of tenure and sense of home.
Traumatic
Global corporate developers and financial investors power the demolition of tens of thousands of council homes via 'estate redevelopment' schemes. Each scheme results in net losses of council homes and an over-supply of private market apartments unaffordable to most Londoners.
These demolition and redevelopment schemes are traumatic and terminal for established local communities. Homes, estates, streets and neighbourhoods are demolished. The family lives and social ties of working class Londoners are ripped apart.
Entire communities of families and schoolchildren are deemed obsolete. Politicians and real estate players mantra the market must be allowed to eviscerate these communities to foster economic growth. Working class Londoners are simply deemed not worth the land they live on.
Divisive
This wave of destruction throughout London is euphemistically labelled 'estate regeneration' by Johnson and by London local councils – including those run by social democratic Blairite-type Labour politicians easily seduced by global developers and corporate UK house builders.
Demolish and redevelop regeneration divides people too. Freeholders and leaseholders of existing homes and retail units want more regeneration of this kind as it props up the value of their investments.
Via this divisiveness, London's private housing boom denies life chances to millions of other Londoners on average and lower incomes by denying them secure tenancies and genuinely affordable homes.
It forces thousands of Londoners to look for homes outside of their home neighbourhood, borough and  even outside of the city of their birth. This limits what their children might become in the future and deepens inequality.
Monopoly
As Mayor, Johnson once told the BBC in October 2010: "The last thing we want to have in our city is a situation such as Paris where the less well-off are pushed out to the suburbs. I'll emphatically resist any attempt to recreate a London where the rich and poor cannot live together.
"On my watch, you are not going to see thousands of families evicted from the place where they have been living and have put down roots," said Johnson. "We will not see and we will not accept any kind of Kosovo-style social cleansing of London."
Three years later, in 2013, Johnson's promise is worthless. London's less well-off see their roots ripped up. Many are being pushed beyond London's outer suburbs to depressed towns on the Essex and Kent coasts and further afield to towns such as Luton, Middlesborough, Stoke, and Merthyr Tydfil where unemployment is high and hostility to incomers can be severe and racialised.
Residents across London angrily denounce 'regeneration' as 'social cleansing'. Yet, faced with an LREF audience of developers, politicians, investors and estate agents, Boris Johnson makes no mention in his Mayfair 'Monopoly' speech of his 2010 pledge to prevent 'social cleansing'.
Chronic shortage
Scroll forward to July 2019. Johnson has secured the job of Prime Minister that he always wanted. Some 160,000 Conservative Party members have chosen Johnson as their leader. But he denies the UK's 45.7 million voters an immediate general election.
Johnson is wedded to the element of a UK political establishment that tells Britain's struggling working classes that a 'no deal' Brexit will serve their interests.
Hence, Brexit-obsessed Prime Minister Johnson gives little thought to the persistent chronic shortage of genuinely affordable housing in London.
Golden brick
In central London the average property price for a newly-built home is £786,000. The average rent rises to £1,617 a month. Londoners' average household income is £30,677.
Profits for those relative few deeply invested in the housing boom might seem to be lowering but, for the majority of Londoners, the chronic shortage of genuinely affordable housing just worsens.
Some 57% of newly built private homes in central London are still being sold to overseas investors. Many such investors use their properties for just a few days a year. Most are simply speculators in 'golden brick' London real estate or they are buy-to-let landlords, according to research undertaken by estate agent Savills.
There are more than 20,000 long-term empty homes in London. Some 50% of residential homes in newly-built London developments are empty.
Meanwhile, 244,000 London households wait for a council flat or house.
Decapitated
However, Johnson as Prime Minister – as when Mayor – persists with his ideological opposition to the refurbishment of existing council homes and to the building of a new generation of council housing.
Increased Right to Buy discounts have led to the selling off of 66,000 council homes in England since 2012 – with 'one-for-one' replacement work starting on just 18,000 'affordable', social rent or council rent homes.
The Chartered Institute of Housing estimates Right to Buy and the conversion of social rented homes to 'affordable rent' has decapitated England's social rented housing stock by 165,000 between 2012 and 2018.
Home ownership
Johnson says he leads a Conservative Party that champions young people who buy their own homes. However, the party presides over a collapse in home ownership from 65% in the 1990s to just 27% for people aged under-35 in 2019. Even diehard Conservative voters now fret their children may never get a foot on that cherished 'property ladder'.
Johnson babbles about home ownership in his first speech as Prime Minister on 24 July, pledging his government will give "millions of young people the chance to own their own homes".
A day later, in the House of Commons, Johnson chunters in the future Britain will be "the greatest place on Earth". He pontificates about "better healthcare, better education and more police on the streets" but mentions housing only once. "We will announce investment in vital infrastructure, fibre rollout, transport and housing," says Johnson.
Help to Buy
On 30 July, Johnson appoints Robert Jenrick, 37, as Secretary of State for Housing Communities and Local Government, the first cabinet minister to have been born in the 1980s. Jenrick promises more new homes, just like his four Conservative predecessors who presided over a collapse in housing supply after the financial meltdown of 2008-09.
The supply of new homes in England collapsed despite the religious commitment to home ownership pedalled by the then Conservative Party's leader David Cameron and chancellor George Osborne. They said 300,000 new homes a year were needed but the net supply of fresh dwellings fell to a paltry 124,000 in 2012/13.
Cameron and Osborne then pumped taxpayers' money into the housing market through their flagship Help to Buy: Equity Loan scheme in 2013. They hoped the scheme would counter a fall in homes sales following the financial meltdown of 2008-09 and would circumvent regulatory authorities restricting the availability of high loan-to-value and high loan-to-income mortgages.
Stump
Under to Help to Buy, home buyers receive an equity loan of up to 20% – up to 40% in London since February 2016 – of the market value of an eligible new‑build property. The loans are interest free for five years.
For instance, in April 2019, house-builder Barratt London offers one, two and three-bedroom homes from £299,995 in Harrow, Hendon, Colindale and Mill Hill. Buyers need to find a 5% deposit of £15,000.
Taxpayers stump up a 40% loan of £120,000 via the government agency Homes England. Buyers also need to take out a 55% mortgage of £165,000. Taxpayers lend £11.7 billion to 211,000 such home-buyers between 2013 and late 2018.
New housing supply begins to rise across England, reaching 222,000 in 2017/18 but then drops again by 9% in the first quarter of 2019.
Debt
Yet Help to Buy homes are unaffordable to most people on average and lower incomes, requiring at least an annual average household income of £50,000. The scheme is decried as 'crack cocaine for house-builders'. It injects profit for the UK's large corporate house builders but foists long-term debt on working people on higher household incomes.
Worse still, Help to Buy continues to artificially inflate house prices – which is good for homeowners as long as prices hold – but a source of despair for younger people looking to buy their first homes who do not have the alternative of a secure council home.
The scheme is set to be restricted and could close completely in 2023.
Temporary accommodation
Meanwhile, at the end of March 2019, 56,280 London households – 43,700 with children – are languishing in temporary accommodation, according to the government's own Ministry of Housing, Communities & Local Government.
Many of these families have been waiting for a new home for up to ten years – an indictment of a political class that dominates the political economy of London – one of the 21st Century's most richest yet most unequal world cities.
Note:
The London Real Estate Forum 2019 – hyped by organisers as 'largest gathering of key decision makers in the London property world – took place at Artillery Gardens, the HQ of the Honourable Artillery Company, in the City of London on Wednesday 12-Thursday 13 June.
LREF 2019 attracted delegates from global property developers, including Argent, Berkeley, British Land, Crown Estate, Derwent, Grosvenor, Helical and Lendlease – as well as corporate-type housing associations Peabody and L&Q.
Elected councillors and appointed senior officers from London local authorities enjoyed champagne and nibbles at networking receptions.
A two-day LREF pass cost up to £1,195 per delegate.
* Click on link to see the speech.
** Footage is © London Intelligence ® Agency. All Rights Reserved. No re-use without licence.
© Paul Coleman, London Intelligence, 2019