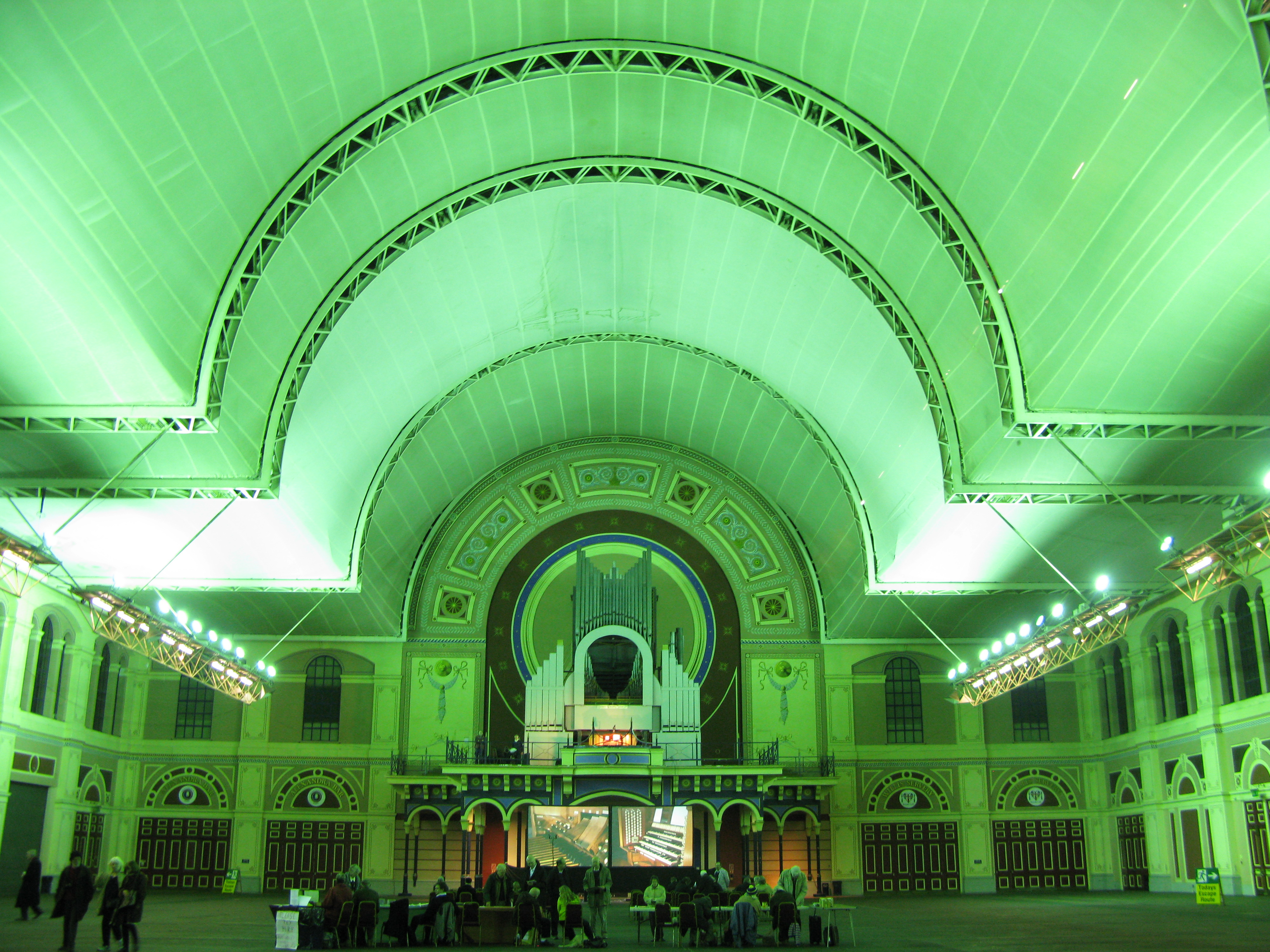 By Paul Coleman
My grandmother – Winifred Edith – used to recall her 1920s childhood days when she'd look up at the unique imposition of Alexandra Palace – aka the People's Palace – hulked on the hill above her Tottenham home. "Ally Pally always looked a bit spooky," recalled Winifred.
Almost  a century later, I hike up the chilly, rain-lashed hill to listen to David Aprahamian Liddle playing Bach, Rheinberger and one of his own darkly strident Armenian compositions. Liddle performs on Ally Pally's massive organ, an epic instrument itself imbued with a survival instinct. 

Liddle's virtuoso playing honours and dignifies the organ which, like Ally Pally itself, has suffered heaped misfortune and indignities. Ally Pally's first fire in 1873 completely destroyed Henry Willis' original organ. British soldiers then vandalised the re-built organ in 1918. Restored in 1929, one of Hitler's flying V2 bombs caused 
serious damage
 to the organ in 1944.
Many Londoners recall the huge flames and belching smoke that devoured Ally Pally in 1980, the second catastrophic fire in the Palace's often unfortunate history. That terrible fire destroyed the organ's shell; but not its soul. Liddle himself enjoyed giving the first recital on the partly restored organ in 1990.
Tonight our nerves jangle again minutes before Liddle's recital.  A motor, driving shutters on a tea bar, over-heats, setting off a flashing fire alarm. Fire-fighters evacuate everyone from the Grand Hall.
Later, the fire crew give us the all clear. We sit inside the Grand Hall, surrounded by vast empty expanses and towered over by organ pipes. The lights cut. The Grand Hall's darkness swallows us. I half-expect to be blasted into some fearful state – the organ and Grand Hall conjuring up images of the Stanley Hotel in that fearful movie, The Shining.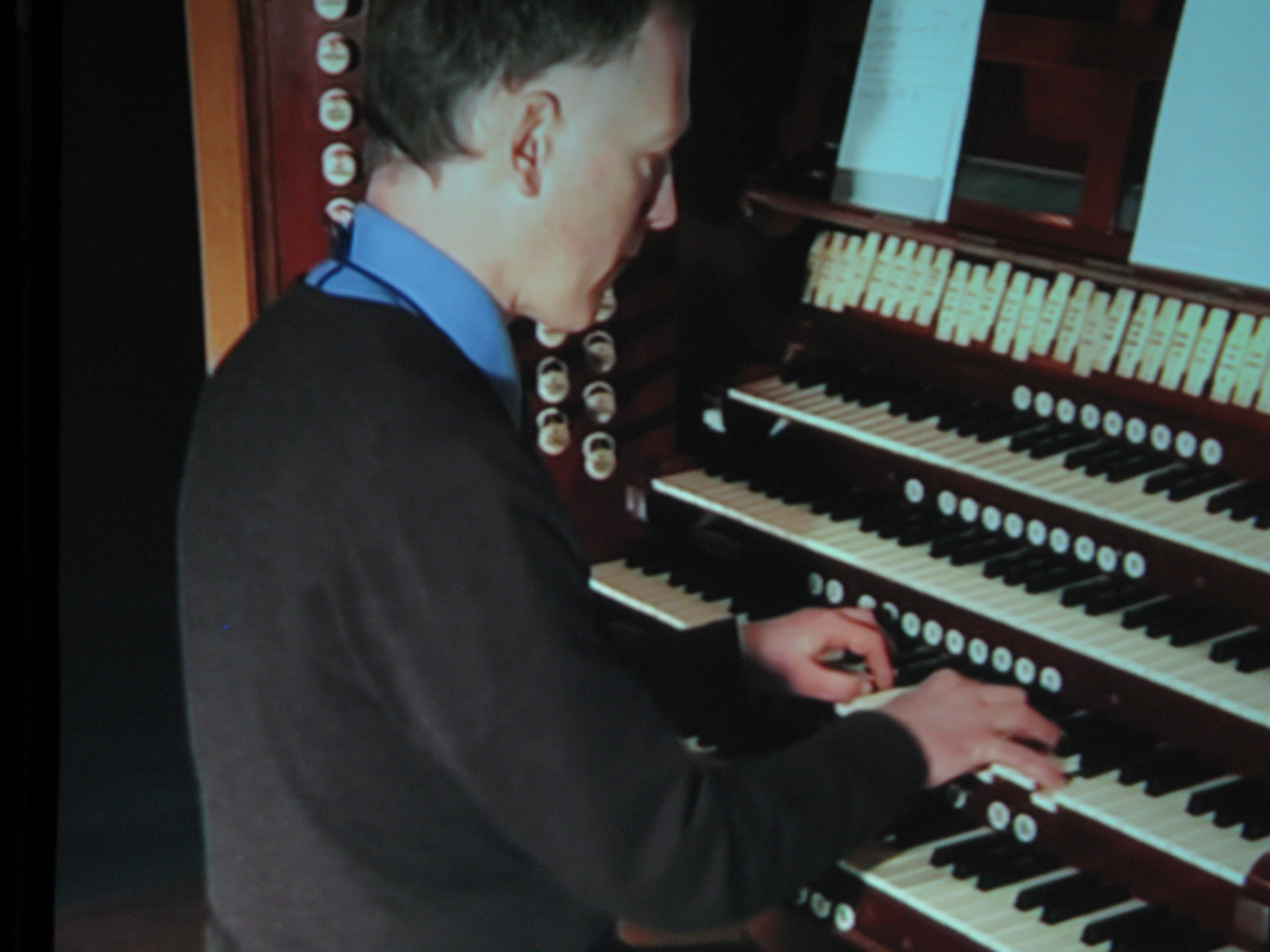 Subtle capabilities
Liddle, educated at Worcester College for the Blind, amazes with his control of the organ's power and surprisingly subtle capabilities. One large screen shows Liddle's fingers flying over the four-level keyboard. The other screen focuses on his socked feet dancing over the foot pedals.
Liddle frequently toes pedals 1,2 and 3 but I wonder – in woeful ignorance of organ organisms – if Ally Pally's reported structural weaknesses explain why he only hovers close to the pedal labelled 'Crescendo' but never actually taps it.
Liddle covers A Song of Sunshine, composed by Victorian musician, Alfred Hollins, who was also blind. Liddle even sends us off home into the bleak cold night with a short, quirky rendition of Handel's Departure of the Queen of Sheba.
Liddle fully deserves our hearty applause as it clatters around inside the Grand Hall. But does Liddle's playing echo deeper through Ally Pally's multi-mile maze of darkened halls, courts, corridors, cellars and vaulted memories?
The Alexandra Palace Organ Appeal aims to ensure the organ is completely restored.  
(
Photos: © Paul Coleman, London Intelligence).