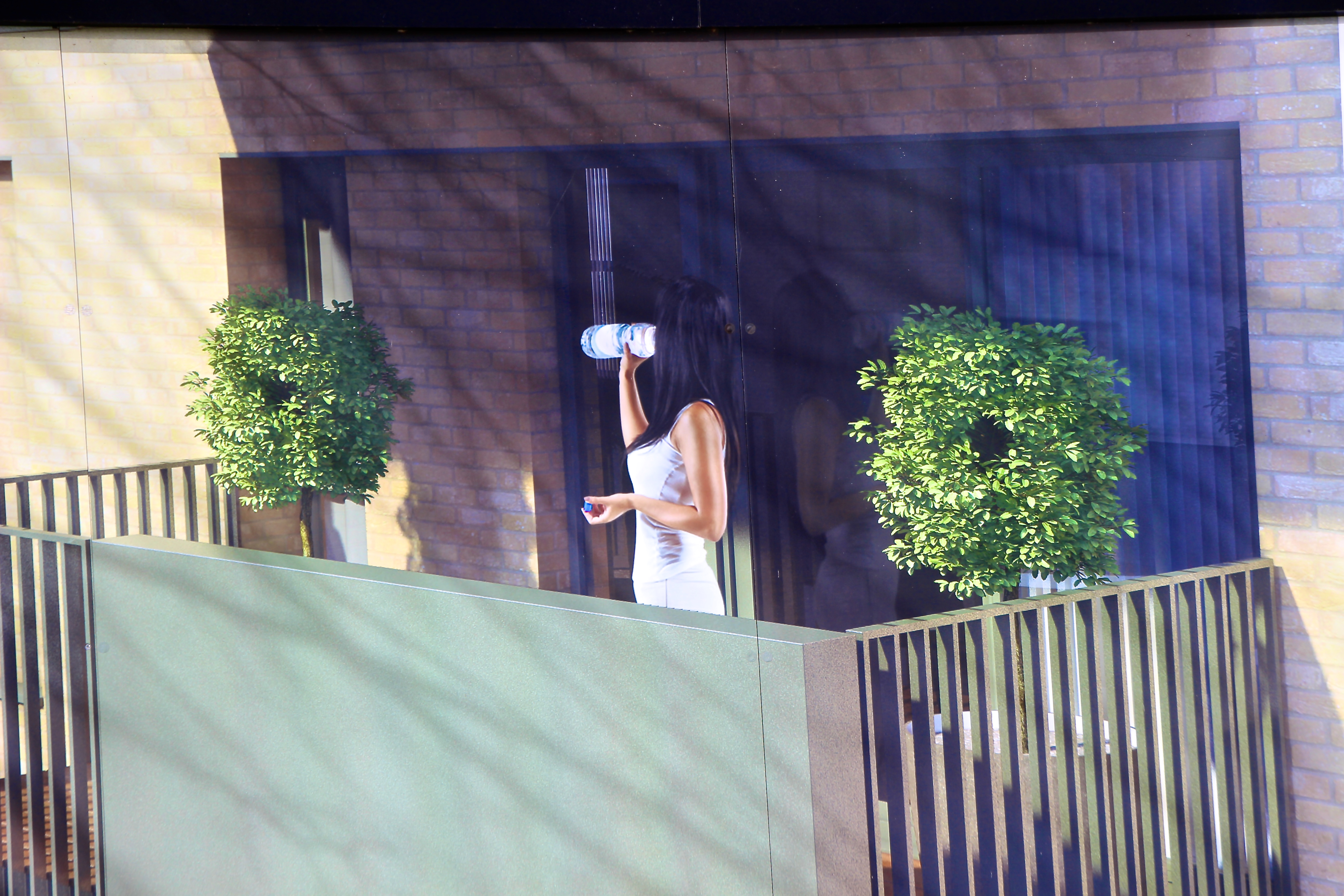 *
Who is the woman on the balcony and what does she reveal about 21st Century London?
The image selling out the West Hendon Estate
By Paul Coleman
*
She's poised like a Tsarina on a palace balcony.
Two topiarised olive trees flank her, like sentries.
She's clad in candid evening sunshine and a clinging, pristine white, sleeveless sports top with matching white bottoms.
Summer heat calmly bakes perfectly jointed brickwork on her newly erected walls.
Long shadows lounge along the metallic silver façade of her upper floor balcony.
She is the image being used to demolish publicly owned council housing on the long-established West Hendon Estate and replace it with privately owned luxury apartments on a new development branded 'Hendon Waterside'.
*
Yet we can't see her face. Is she European, Asian, African or Caribbean?
Maybe we're meant to feel she exudes an icy disinterest but conceals an inner fiery desire.
Her right hand squeezes a glistening one-litre bottle of chilled water. She raises the mouth of the bottle to her lips. Is she sipping or swigging?
We can though mull over her voluminous, long black hair. One mass tumbles back over a shoulder blade. Another tress cascades over the slope and edge of an ample curved breast. Sunlight and shade miraculously fall in perfectly zoned lines along her bronzed left upper arm. Her tanned right forearm presses horizontally against her body. She grips a sky blue bottle top between the tip of her manicured thumb and forefinger.
*
Where is she?
Well, she's right where she's meant to be.
Inside your head.
Does her image stir you? Fire your imagine. Will she turn with all that flowing hair and fluid bronzed skin, face you and, knowingly, reciprocate your gaze?
Who is she?
Maybe she is like you. Or, at least matches your desired self-image? Does she possess the 'beach body' you want and embody the lifestyle you crave?
You've just come back to your smart luxury apartment from a hot gym session. You rehydrate and relax on your balcony.
 *
Fantasy
But, ladies and gents, look more closely, before your imagination runs away with you.
This manicured image places us in high June but those summer shadows only show wintry bare tree branches. And, only trickster x-ray light could pass through our Tsarina's torso and reflect her entire right arm in a glass pane. Flouting the laws of physics is an odd mistake for a skilled graphics designer to make. Strange too, since this sculpted computer-generated image clearly arises from much applied time and energy. It's a fantasy image like those adorning an adult comic. Conceived by marketing people – a species once labelled as 'Satan's little helpers' by the American comedian Bill Hicks.
The ad's message says splash out and buy a new luxury apartment – and you too could live that dream-come-true lifestyle – with all its potential sexual potency. Chaps, the woman on the balcony might like you. Ladies, you could be like the woman on the balcony.
It shouldn't surprise us that marketing people concoct sexualised images of women to sell new homes. We live in an epoch of lifestyle advertising targeted at consumers who desire sexually exciting lives. Advertisers try to show how their products and services meet these desires. Many ad folk believe sex sells almost everything, including real estate to wealthy newcomers. And, that belief clearly stretches to selling newly built apartments in west Hendon, a hitherto unfashionable north-west London backwater but a neighbourhood hosting established networks of working families.
 *
West Hendon estate
Yet that little bubble of marketing belief means the 'woman on the balcony' image embellishes construction site hoardings surrounding 'Block E', part of 'Hendon Waterside', a controversial demolish and rebuild scheme for the West Hendon council estate.
'Hendon Waterside' is a 'regeneration' development of mainly private homes for sale on London's overheating housing market. The 'regeneration' demolishes over 600 council homes without replenishing this public housing on this site or anywhere else. Barnet Council gave the green light to the phased development of private apartments that will replace the council homes.
Much of the West Hendon estate is now overlooked by cranes and riven by heavy lorries. Residents, including children and elderly people, share their homes with coarse, throat-scratching fine dust from the building sites.
Many long-term council tenants and leaseholders on average and lower incomes bitterly oppose this developer-led and council-backed 'regeneration'. Not least, because earlier 'regeneration' plans in the first decade of the 21st Century included promises to re-house West Hendon tenants in new 'like-for-like' homes and tenancies. Promises that proved empty.
West Hendon estate residents say the plan to build new private luxury apartments permanently forces them out of a neighbourhood where their families have lived for generations. It destroys a neighbourhood and dissolves a community of average and lower income Londoners in order to replace them with more affluent people, including overseas buyers.
Some West Hendon tenants bought their flat under 'right-to-buy'. Barnet Council is offering compensation to these leaseholders for the loss of their homes – £175,000 for two-bedroom homes and £115,000 for one-bedroom flats. Leaseholders face compulsory purchase if they don't accept these offers. But some leaseholders, like Jasmin Parsons, forced a public inquiry in early 2015 – and hope a planning inspector calls a halt to Barnet's compulsorily purchases.
Market prices in May 2015 for new 50 square metre, one-bedroom 'Lakeview' apartments start from £303,000. The average price of 'Hendon Waterside' apartments hovers at around £415,000. Perhaps these prices explain why the marketing guys conjured up the 'woman on the balcony', as part of a necessary hard sell.
*
Racing certainty
'Regeneration' involves rebranding the West Hendon estate as 'Hendon Waterside'. The estate sits next to the Welsh Harp reservoir, 440 acres of water, marshes, trees and grassland protected as a Site of Special Scientific Interest. Existing West Hendon residents are offered no such protection.
Developers Barratt describe the West Hendon estate as one of Barnet's 'five strategic failing housing estates'. Local residents say Barnet Council have deliberately neglected the estate to justify 'regeneration'. Even to the point of allocating homes in one block – Franklin – to some transient, troubled and troublesome people.
Barnet Council gave joint venture vehicle Barratt Metropolitan planning consent for its £520 million scheme in 2013. Barnet also sold a portion of the West Hendon estate's public land to Barratt for just £3 on condition the developer provides 'affordable homes'. Opponents point out the Council originally valued the land at over £12.3m and question the deal in light of a net loss of social housing incurred by the 'regeneration'.
Barnet Council leader Richard Cornelius, though, remains undaunted. "The buildings are grotty down there. They need rebuilding. And the way you rebuild an estate is you put in private housing which pays for the rebuilding. We believe this regeneration is very much in the public interest."
Barratt says it intends 2,000 new units to eventually replace the West Hendon's estate's 680 homes. Of these, 1,494 will be for private sale. Barratt's development partner, the Metropolitan Housing Trust, will offer 287 'intermediate' homes, including for shared ownership and shared equity. Just 219 homes will be 'rented', let to existing secure West Hendon tenants at 'target rents' that only a few might be able to afford.
Different definitions of social housing are used to weigh the final allocation. The only racing certainty is that West Hendon's 'regeneration' involves a net loss of public housing – and the displacement of its long-established residents and their community.
*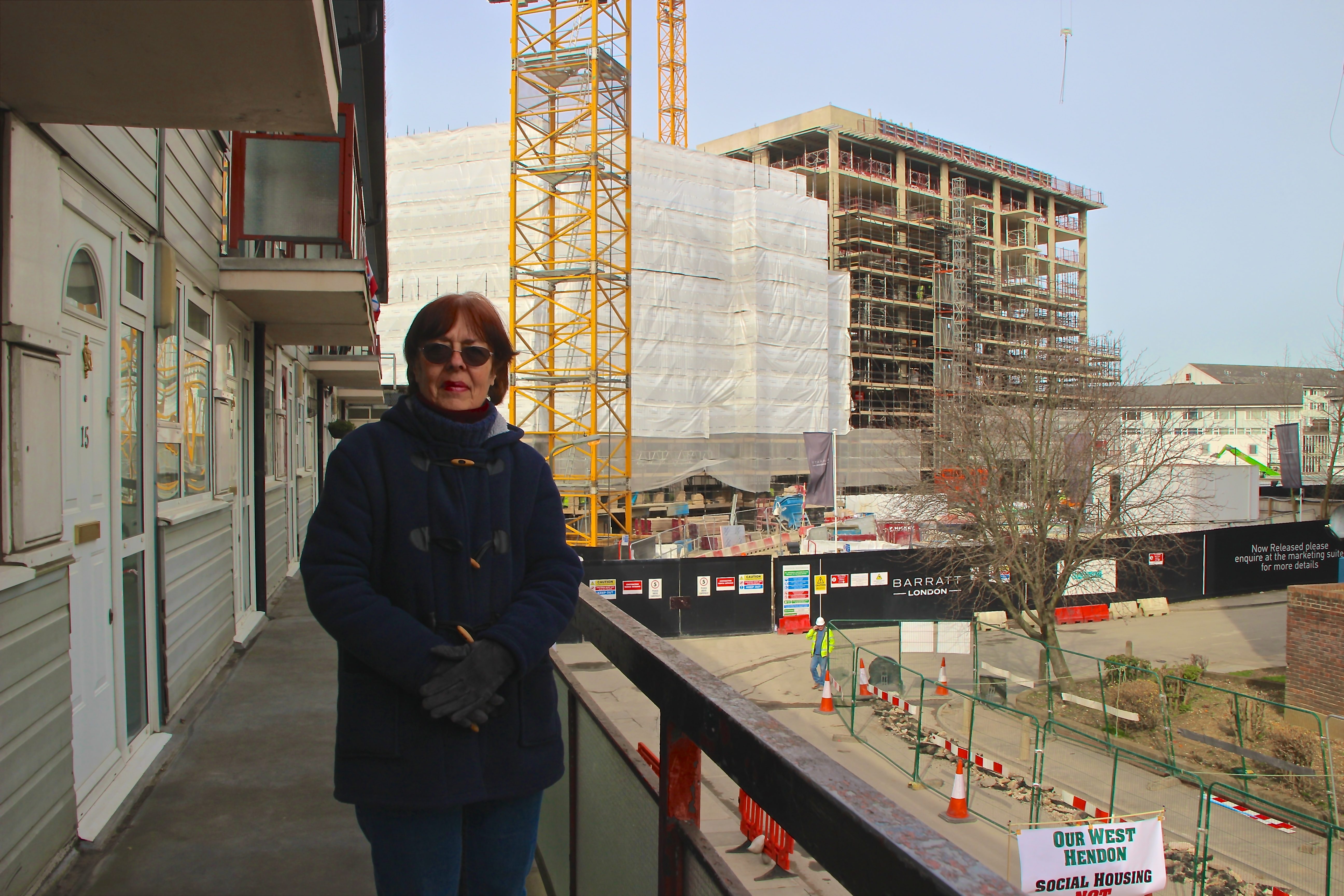 Promise
Jackie, a retired communications worker, and well-known West Hendon resident, lives in a neat, spacious two-bed flat on Tyrell, a compact low-rise block. The image of the 'woman on the balcony' adorns the building site hoarding just below Jackie's living room window.
Jackie recalls the initial 'like-for-like' promise made to residents. "They promised everyone would have a new home on this estate," says Jackie. "But the 2,000 homes being built here will be mainly for private sale, and they'll be so expensive for leaseholders. Even the shared equity – people can't afford it. So, we've got to go. But you need enough money to leave here and buy something else. And the third offer they made, you wouldn't be able to buy a garden shed in this area of London.
"Barnet Council is basically telling us, 'If you can't afford to live in this area, then clear off.'"
In 2015, Barnet are clearing many 'short-term' tenants off the estate – even though some have lived on West Hendon for nearly ten years. Short-term tenants are served with possession orders and are shunted off to temporary accommodation. Others are compelled to fend for themselves in the more expensive private rental sector.
Shainaz, a 'non-secure' tenant, lived on the West Hendon estate for over four years. Barnet Homes, the 'arms-length' body that manages and maintains Barnet's 15,000 council homes, moved Shainaz to West Hendon after the breakdown of her tenancy with a private landlord. But, with the pending regeneration of West Hendon, Barnet Homes have since moved Shainaz to another home, several miles away in North Finchley.
"I don't know anyone there," says Shainaz, who suffers from severe depression. I enjoyed living here at West Hendon and miss the people."
Barnet Homes says it is working with tenants to find them new suitable alternative accommodation.
But stories abound that wily council officers 'wrongly' advised short-term tenants not to attend the 'formality' of court hearings. Housing officers arranged 'assessments' at one tenant's home at the same time as the tenant should have been in court resisting their possession order and eviction. West Hendon leaseholder and campaigner Jasmin Parsons says: "If the tenant had bowed down to them, that tenant would be facing eviction. "Other tenants were similarly advised on the phone by Barnet Council, 'There's no need to go to court. It's just a standard process. We won't evict you from your home.' But quite a few of those tenants have gone."
*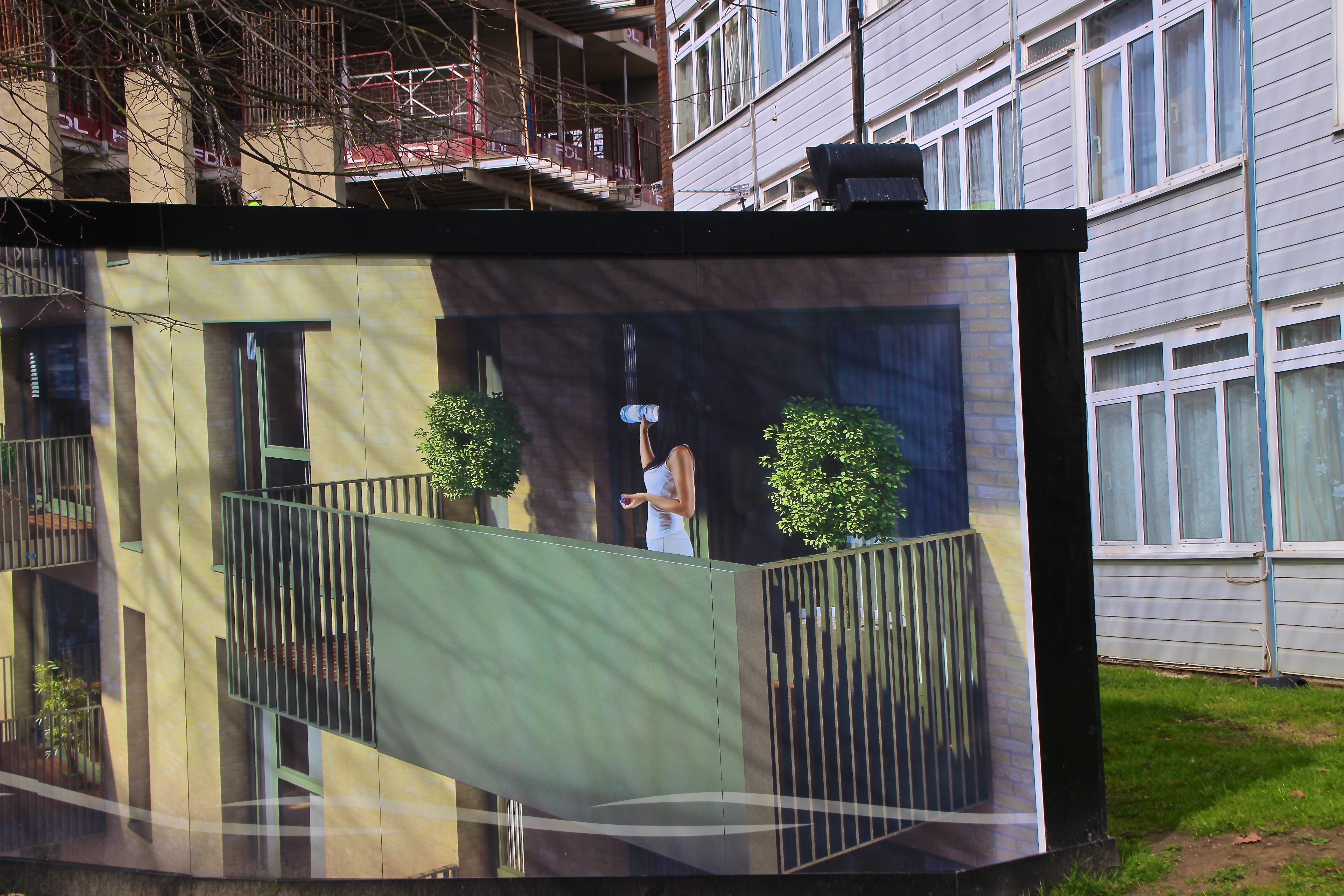 *
Fiasco
Other 'regeneration' marketing images can be found at other new expensive private developments, such as 'Pulse' and Beaufort Park at Colindale, an area just a short bus ride along the Edgware Road from the West Hendon estate.
They show the intended target market of buyers – young, white professional couples, 'hipsters', and affluent young folk from Hong Kong, Singapore and Malaysia. There's no representation of white working class white people, or elderly folk. No images of people of Asian, Caribbean or African origin. Nobody from the west Hendon estate.
The woman on the balcony could lure us too deeply into metaphor. But she does invoke some connective leaps. Her appearance at West Hendon arises out of London's housing fiasco during the second decade of the 21st Century – a decade where more and more Londoners on average and lower incomes demand genuinely affordable homes. But a debacle where politicians allow only luxury homes to rise out of the ground for sale to affluent Londoners and overseas investors. And Londoners on average and lower incomes see neighbours, friends and family being decanted, dispossessed, evicted and displaced from demolished council estates to cities and towns across the country.
Broader still, the 'woman on the balcony' signifies that housing is no longer a public asset, service or utility, built to benefit society through the provision of secure, affordable tenancies. Instead, housing is a private commodity, built often on cheaply acquired public land for speculation and profit. Serving up only short-term insecure tenancies, uncontrolled rising rents and inflating London house prices.
Politicians seek to maintain this housing market price inflation to bolster 'economic growth'. They use public money for schemes, such as Help to Buy, to subsidise people on average incomes who choose to burden themselves with mortgage debt to buy over-priced homes.
*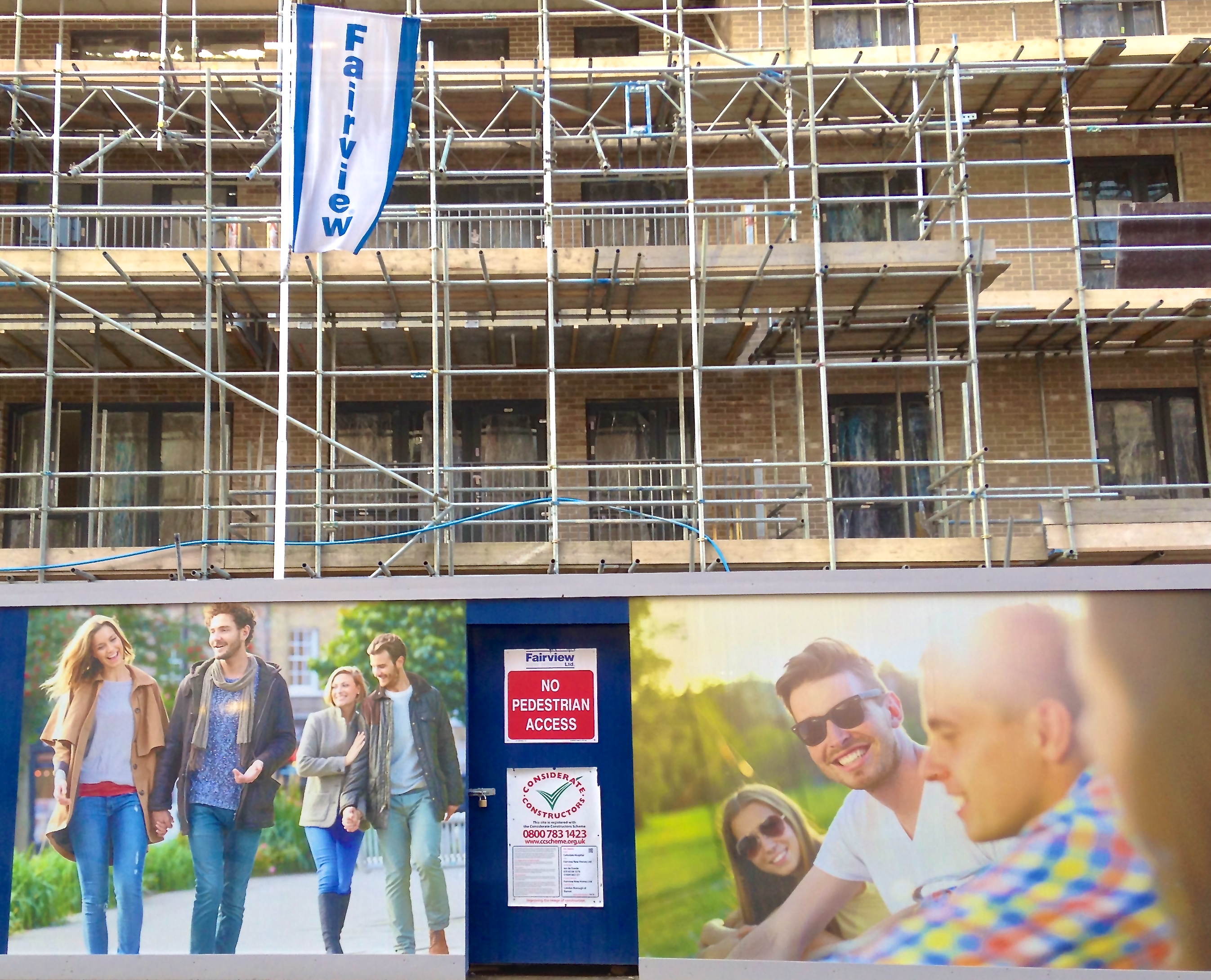 *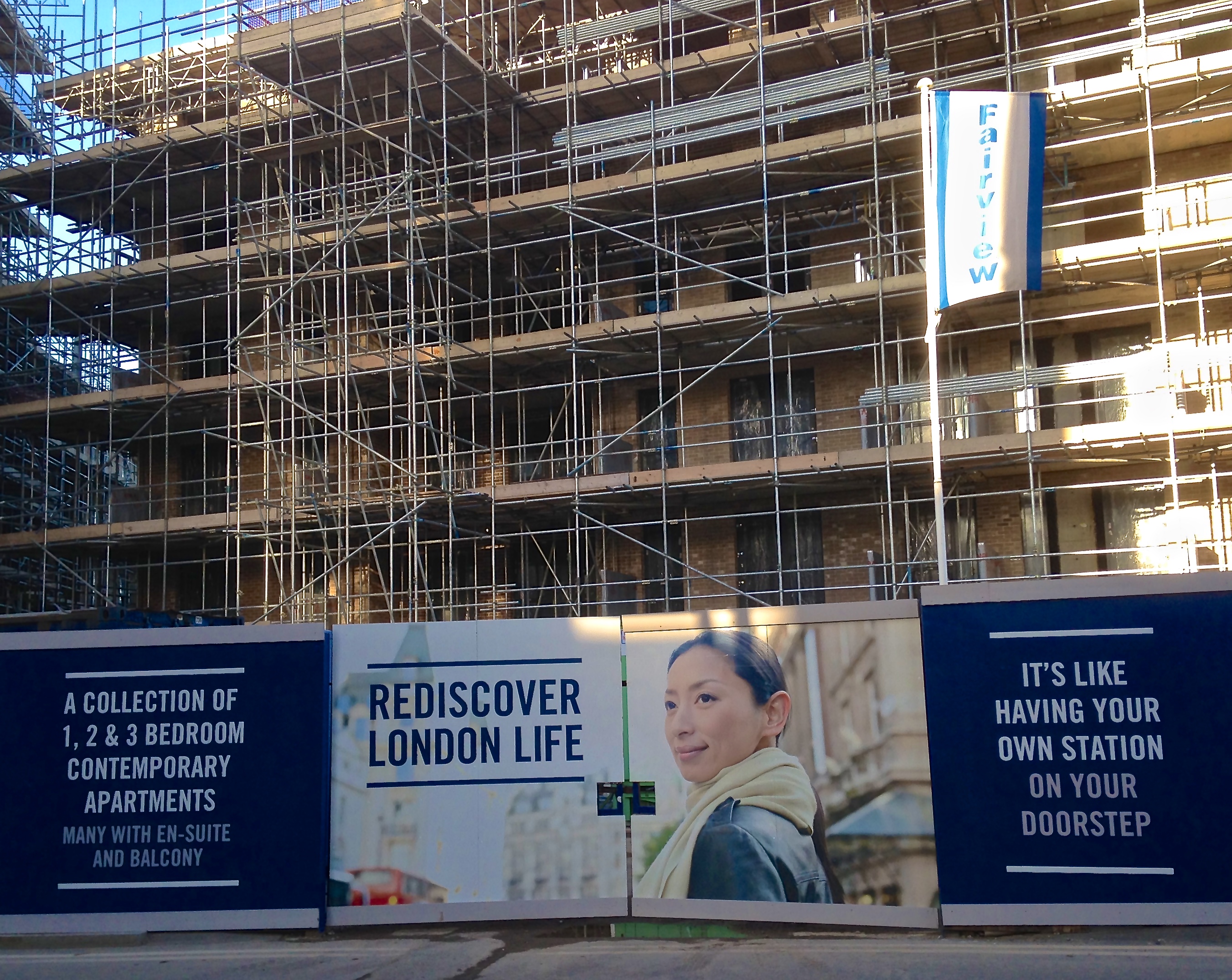 *
Mocking
So, if the 'woman on the balcony' turns around, what face will we see? Perhaps, surreally, a grim-faced London Mayor Boris Johnson, promising as he did in October 2010: "You will not see, and we're not going to accept any Kosovo-style social cleansing of London. You are not going to see on my watch thousands of families being evicted from the place where they are living and put down roots."
Maybe, she might reveal herself as the phantom of 'precarious housing' or 'social cleansing', Secreting insecurity to families. Eventually forcing them to move from secure council tenancies to insecure private rented homes where a landlord needs only to give two months notice to get them out. A situation that leaves children, in particular, suffering from stress and fear that they may have to leave their home, neighbourhood, school and friends.
Or, the 'woman on the balcony' may possess no face.
Just a mocking skull.
Taking cruel pleasure in London's uncontrolled housing market that serves the interests of corporate developers, property speculators and landlords – but cramps life opportunities for most working Londoners and devastates the lives of many others through eviction.
Seen this way, the woman on the balcony could be a ghoul rising out of London's clay – invoked by developers, politicians, property speculators and certain housing associations, who garb her with the seductive robes and tresses of 'regeneration'.
*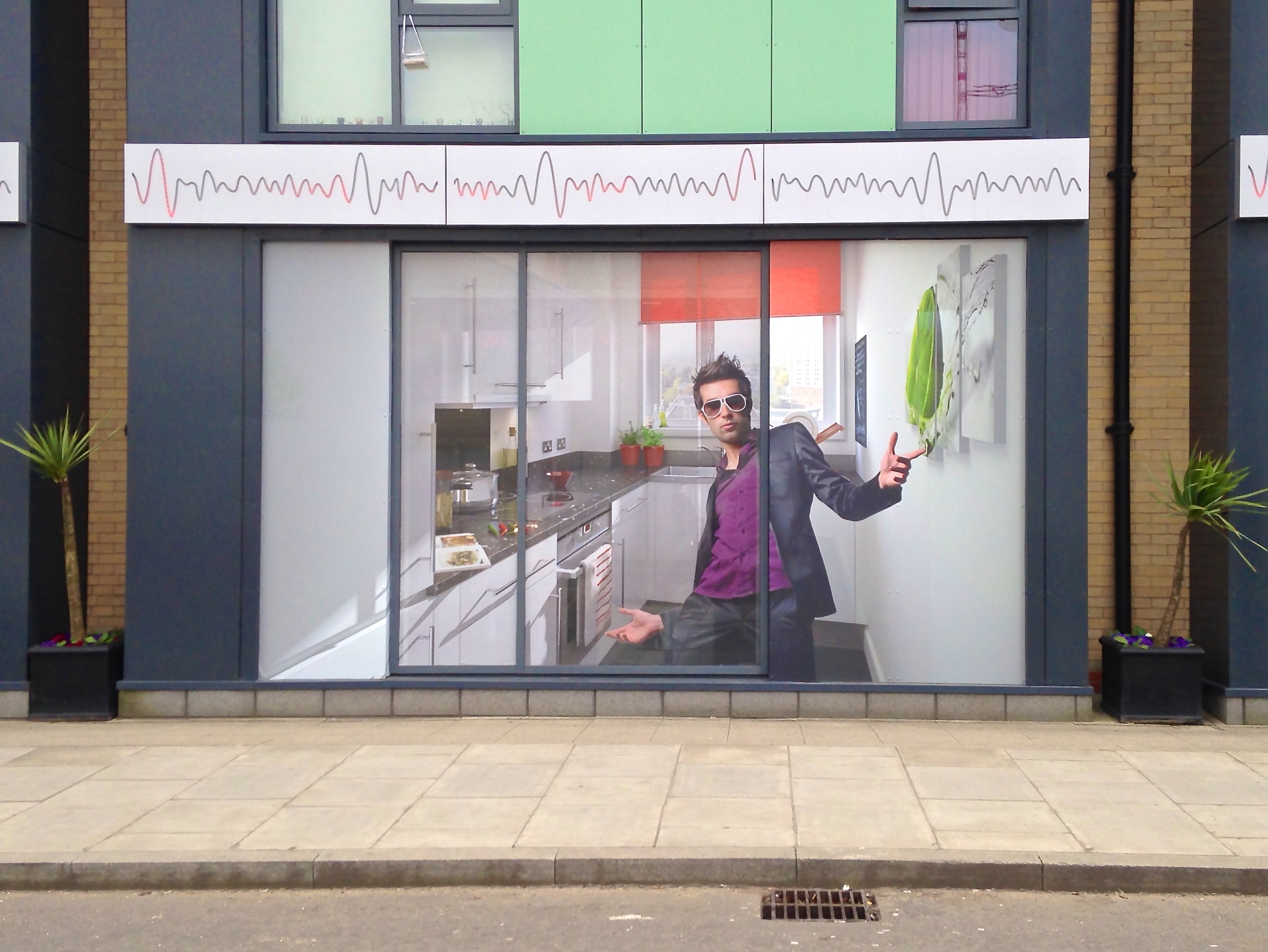 *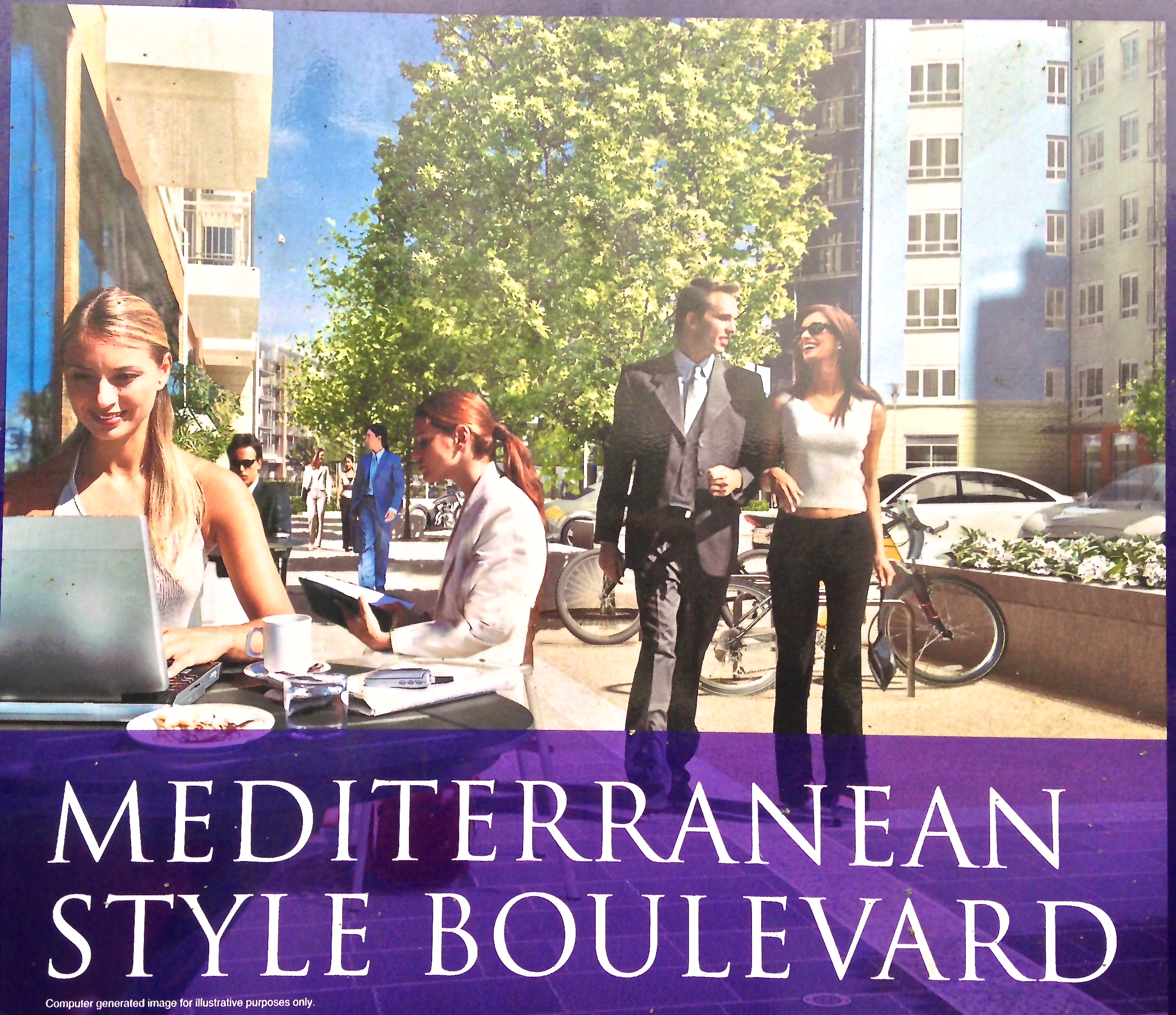 *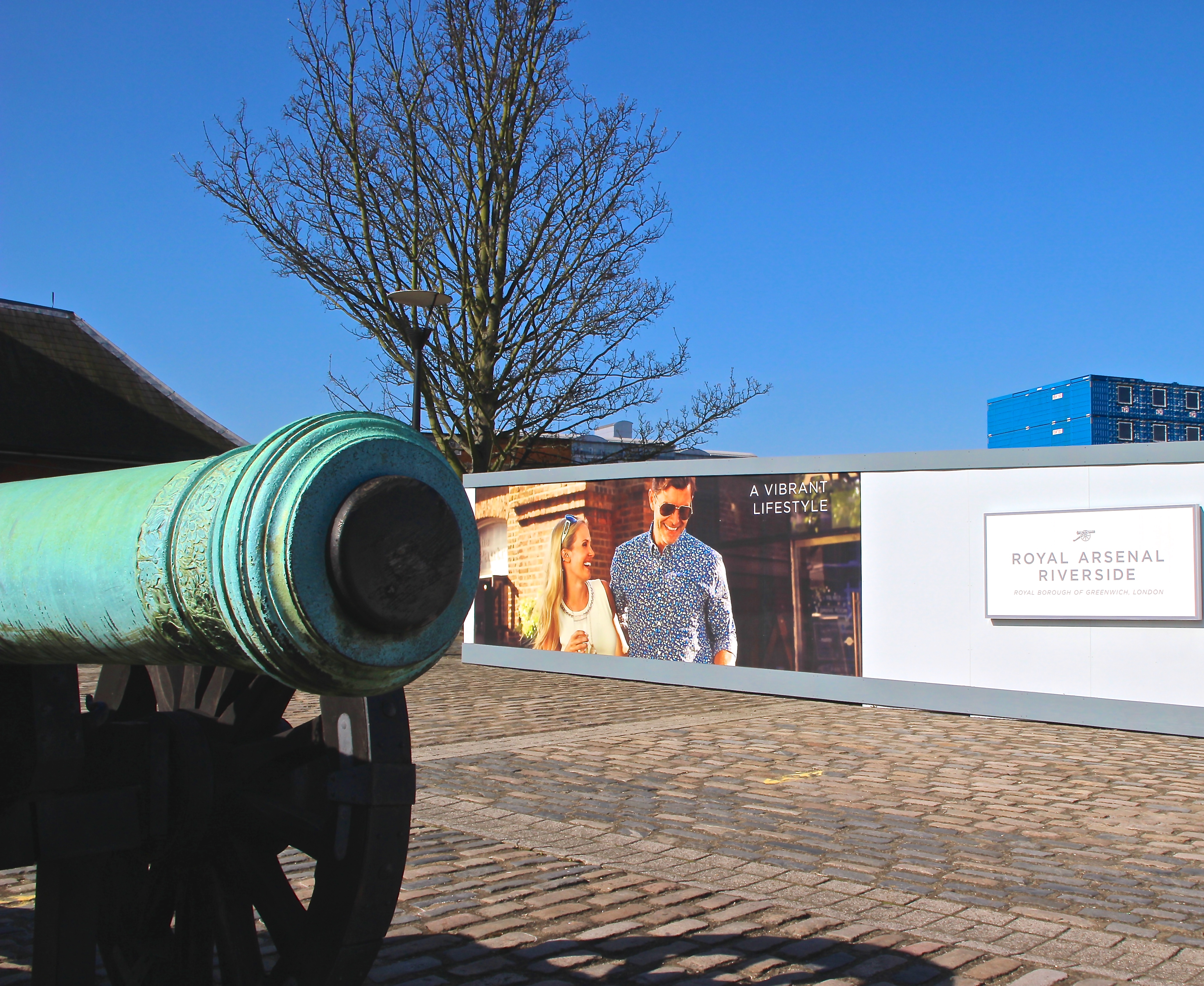 *
*
*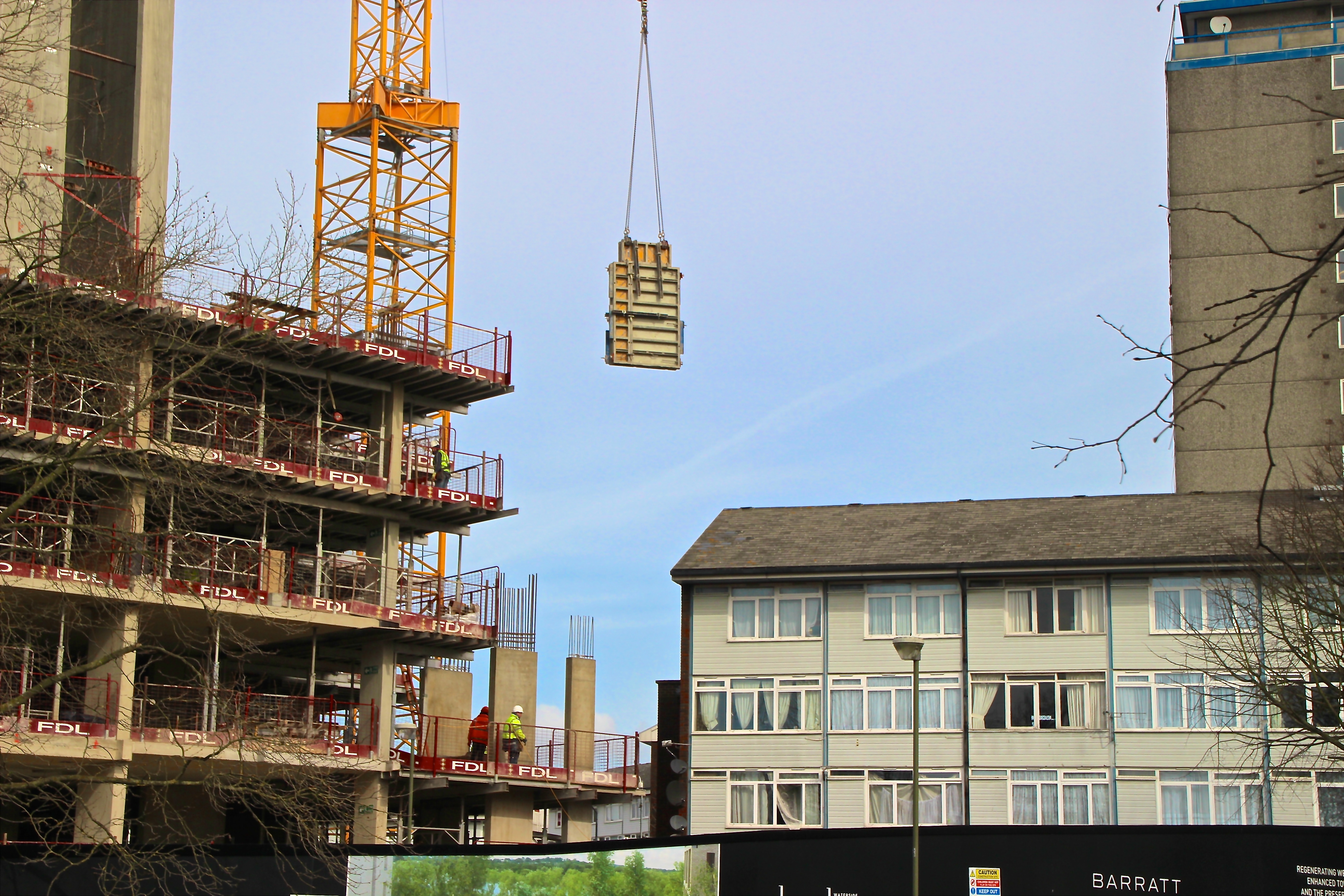 *
© London Intelligence