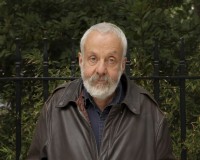 By Paul Coleman
Mike Leigh stands almost dwarfed by the lectern. Around him, the West End room quickly fills with gentle people in a state of polite confusion. Maybe, that's because Leigh's Piccadilly audience have come to listen to a film director speak about architecture at an arts event hosted by the Geological Society. 
Leigh's face is framed by a curly white beard with a bushy moustache concealing his top lip like ivy sprawling over a balcony. He sports a bottle green jacket hung over a chocolate brown corduroy shirt – and a weary, hangdog 'wish I was somewhere else' expression. But Leigh warms to his task – to utter lovingly about two of his favourite London buildings; the British Museum, that resplendent must-do temple for tourists, and the long departed old Euston Station with its classical Doric Arch, erected in 1836 but cruelly demolished in the 1960s on the say-so of Prime Minister Harold Macmillan. Ditched chunks of Euston's Doric Arch were fished out of the River Lea's Prescott Channel in 2009.
Salford-born Leigh, director of Abigail's Party (1977) and Another Year (2010), says the old Victorian-built Euston – the southern terminus of the West Coast Main Line – with its spectacularly decorated great hall, became Manchester's unofficial "embassy in London".
"I can still smell the steam trains when I visit Euston," says Leigh. "I ate my first curry in nearby Drummond Street."
Mancunian Leigh also recalls Euston's barber's shop with great mirrors and marble sinks under Platform Six."The barbers were nothing if not aggressive," says Leigh. "I was a drama student and went in for a haircut. Very inoffensively, I said to the barber, a great big fellow with tattooed arms, 'not too much off the back, please'.
"The barber said to me, 'Don't fuckin' tell me how to cut hair! I was fuckin' cutting hair before your Dad was born!…Shut up!'"
Leigh's eyebrows dance up and down. His forehead furrows frequently like an exposed geological fault much cherished by the Geological Society alumni. He eagerly recites a much-loved quote from Richard Morrison, who wrote in The Times about the newer 1960s-built Euston Station, dwarfed by Network Rail's former and very apt Orwellian HQ, a monstrosity known as the 'Black Tower'.
Leigh, quoting Morrison, recites: "Even by the bleak standards of sixties' architecture Euston is one of the lustiest concrete boxes in London devoid of any decorative merit, seemingly concocted to induce maximum angst from passengers and a blight on surrounding streets.The design should never have left the drawing board, if indeed it was ever on a drawing board!
"It gives the impression of having been scribbled on the back of a soiled paper bag by a thuggish android raging against humanity and with a vampyric hatred of sunlight."
Leigh ends his talk where his life in theatre and film began, in September 1960 when he began his scholarship at the Royal Academy of Dramatic Art on Gower Street, just around the corner from his beloved Euston Station. "I stepped through the Doric Arch at Euston on a very special occasion. I'd come to London for good," recalls Leigh.
"I also embraced the city that I was to love."
Films directed by Mike Leigh include Secrets and Lies (1996) and Vera Drake (2004).
Words: © London Intelligence.