Central and local government continue to fail to mitigate the suffering of Grenfell fire survivors, writes Paul Coleman in April 2018.
The Grenfell Tower fire on 14 June 2017 on the Lancaster West Estate in the London borough of Kensington and Chelsea kills 71 working class people.
Rehousing survivors
Anger about delays centres on the fate of households evacuated from their Grenfell Tower and Grenfell Walk homes. Of 209 evacuated households, 86 remain in emergency accommodation as of 1 March 2018, according to figures from the North Kensington Law Centre. Another 63 households have moved into temporary accommodation and just 60 into permanent accommodation.
By the end of March, the government cites figures from Kensington and Chelsea Council that claim 82 households remain in emergency accommodation, including 25 families with children. The government says 62 of 208 evacuated households are now in permanent accommodation.
Cladding
The government says regulations prohibit the use of 'Class O' cladding panels on tall buildings. The government says polyethylene-cored panels on the Grenfell Tower failed to meet a higher combustibility standard and that their usage was thus illegal. But in March 2012 a government fire safety expert reportedly signed a certificate permitting their usage on buildings higher than 18 metres.
In Camden, metal curtain walls that hold windows and insulation panels on the outside of five tower blocks on the Chalcots Estate in Swiss Cottage need major work to make them safe. Windows have fallen several times in the past few years. This represents another disruption in the lives of residents. They were forced en masse to rapidly evacuate their homes in the wake of the Grenfell fire last summer whilst flammable cladding was removed from their blocks.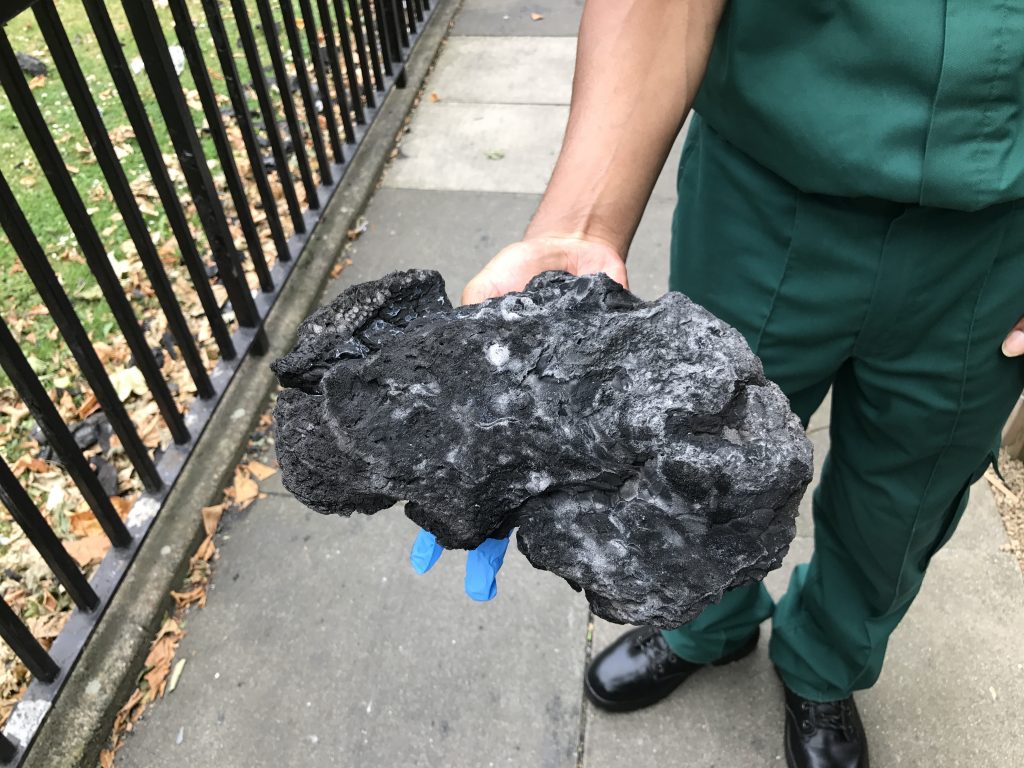 Fire doors 
An undamaged front door from a Grenfell flat resists flames and smoke for only 15 minutes when tested, according to the Metropolitan Police. Such failing doors are designed to provide 30 minutes' fire and smoke resistance. The failing doors are manufactured by Manse Masterdor, a company reportedly no longer trading.
A trade body, the British Woodworking Federation, says it has lobbied the government for years to make third-party checks obligatory on the manufacture of these doors. Government ministers say there is 'no evidence the Grenfell door tests represent a 'systemic issue' and social landlords need take no action.
Sprinkler systems
Since Grenfell, the government also refuses commit public funds for the retrofitting of sprinkling systems in all UK tower blocks. London Fire Brigade commissioner Dany Cotton says sprinklers "can't be optional".
All new high-rise flats must be fitted with sprinklers, says the London Assembly in March 2018 – as well as all new care homes and sheltered housing. Sprinklers, say Assembly members, should also be retro-fitted in 200 high-risk buildings.
It is also reported that back in February 2014, then Housing Minister Brandon Lewis rebuffed junior housing minister Heather Wheeler when she called for mandatory sprinklers systems in all new developments. Lewis told Wheeler the government is committed to reducing regulation. Building regulations require sprinklers to be fitted to buildings constructed since 2007 if they are taller than 30 metres.
It is also revealed that the government in 2010, as part of a building regulations review, asked fire safety professionals for their views on how to cut costs.
Inquiries
The Metropolitan Police criminal investigation of the Grenfell fire is said to have taken 415 witness statements and data from 154 organisations. Some 560 emergency 999 calls are also on record from that night.
Families of people killed in the fire and survivors say the inquiry into the fire is failing to share thousands of key documents with them. Experts at the inquiry, they say, have received such documents but not the core families taking part. This follows a claim that residents were also excluded from the review into building regulations and fire safety conducted by Dame Judith Hackitt.
No representation of the Grenfell community sits on the public inquiry.
Justice campaign
Campaigners are trying to focus public opinion on the injustice of the Grenfell fire. Mainstream media interest continues to fade. Some 297 towers in the country remain clad in flammable material. Recently, campaigners drove three billboards on vans to the Houses of Parliament and paraded them around central London. The three billboards simply stated: '71 Dead – And Still No Arrests – How Come?' (below).
Also, residents on six blocks on the Lancaster West Estate – that includes Grenfell Tower and Grenfell Walk – will start paying rent again. Yet the Royal Borough of Kensington and Chelsea Council said it will consider making payments to some council tenants worth 50% of their rent and service charge. This will cover tenants' costs that arose from the disruption caused by the fire.
Boiler failure
Finally, a temporary boiler on the Lancaster West Estate breaks down in the middle of the March 2018 cold snap. Residents see steam pouring from a broken pipe on a Saturday night. The pipe is fixed and heating resumes three hours later. The temporary boiler is installed after the Grenfell fire to provide heat and hot water for the remaining residents.
The fire of 14 June 2017 had destroyed the main boiler.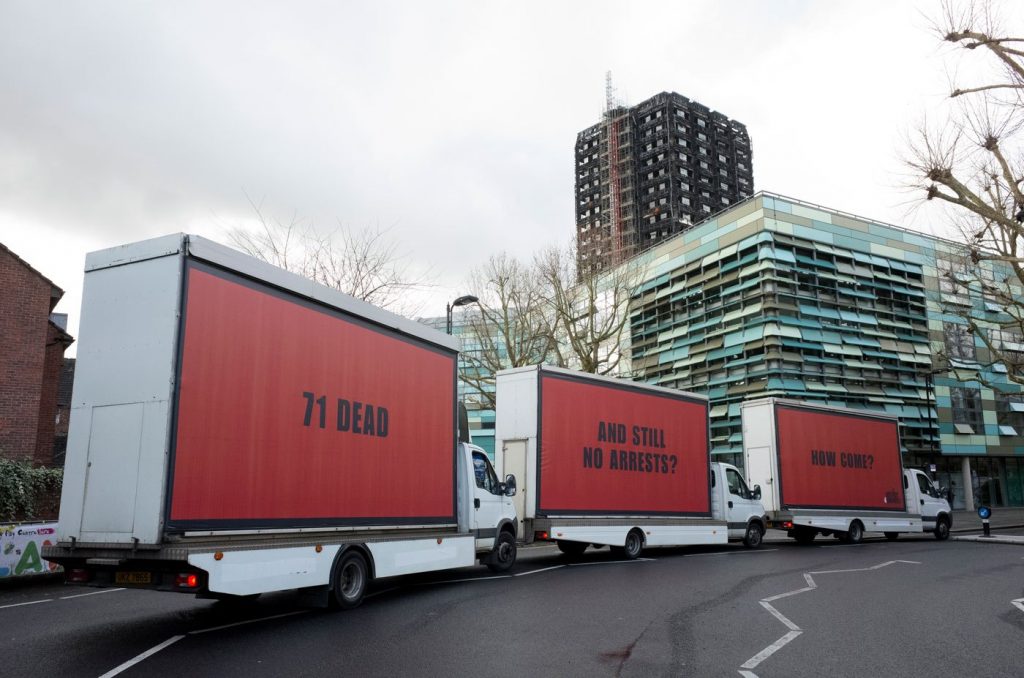 ©  London Intelligence 2018