*
Pressure 

Drop
'I say, a pressure drop, oh pressure
Oh yeah, pressure drop a drop on you'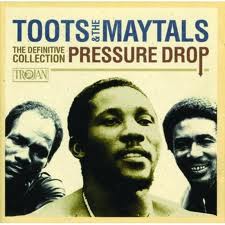 Song: 'Pressure Drop'
Performer: Toots and the Maytals
Songwriter: Frederick Hibbert
Lyrics: © Universal Music Publishing Group
*
Recorded in 1979, 'Pressure Drop' became one of a string of hits for Jamaican reggae legends Toots and the Maytals.
Later, 'Pressure Drop' featured in the classic Jamaican film The Harder They Come (1972).
London band The Clash recorded a version of 'Pressure Drop' in 1979.
Led by Frederick 'Toots' Hibbert, Toots and the Maytals often played in London and also recorded live London albums.
*
©  Song City, London Intelligence, London 2016