London: a Real Estate City as seen from the People's Palace
Victorians in London dubbed Alexandra Palace the 'People's Palace'. 
Later, in 1936, Alexandra Palace transmitted the world's first regular public television service.
Viewed from 'Ally Pally', London looks verdant and tranquil. The Millennium Dome, St Paul's Cathedral and the Shard grace London's skyline. Looking across this vista, Londoners might feel proud of their city's unique architecture and history.
Londoners might reflect too that London is one of the richest yet unequal cities humanity has ever known.
Schmooze and sway
London's 21st Century skyline partially reveals this inequality.  A thrusting 'havoc' of high-value residential and office towers – as the writer Rowan Moore calls them – gives London's skyline a jagged edge.
These mushrooming towers brim with profitable luxury apartments and penthouses. They are the product of an unaccountable and powerful alliance between global corporate capital interests and a cadre of London's leading politicians, including the Mayor of London.
Global developers schmooze and sway these elected local politicians and appointed senior council officers. In return, this willing cadre gives planning consent to developers for their profitable developments.
This opaque 'local market state' severely cramps the life chances of working Londoners on average and lower incomes. The local market state demolishes Londoners' secure homes – and then denies them the secure and genuinely affordable homes they desperately need.
Estate demolition
The local market state demolishes council estates, many that could have been refurbished or replaced with new genuinely affordable council homes. Demolition of such estates and their replacement by unaffordable high-density luxury developments results in heavy net losses of publicly subsidised council homes.
These schemes involve the highly discounted sale and permanent loss of publicly land owned to private corporate interests. They are wasted opportunities to build new council homes with secure tenancies – desperately needed by working class London families, thousands of whom languish for years on council house waiting lists.
These developer-led, council-backed schemes also destroy long-established shops and businesses that have nourished local economies and employed thousands of people.
'Regeneration'
The entire panoply of London's real estate industrial complex – overseas investors, developers, estate agents, architects, surveyors, and planners – powerfully counters this narrative. Its media-amplified propaganda depicts this destruction as an anodyne form of beneficial 'regeneration'.
This counter-narrative mantras that developer-driven 'regeneration' is a desirable outcome of the natural and inevitable playing out of market forces – especially of London's real estate market. However, developer-driven, council-backed demolition and redevelopment of council estates, shops, markets and streets damages the real economy where working people live and work.
'Regeneration' by the local market state destroys neighbourhoods, rips carefully woven social fabrics and evaporates entire communities. It sacrifices Londoners – London's cultural capital – so real estate capital can relentlessly pursue profits.
Violates
Developer-driven demolition and redevelopment also fosters rising house prices, mortgage repayments and rents. Outright homeowners benefit but many hard-pressed families find rising mortgages or rents can swallow over two-thirds of their household incomes.
'Regeneration' of this kind denies London families life opportunities to enjoy secure and genuinely affordable homes. It financially and socially violates the lives of millions of working class London households. School  and home life are disrupted, limiting what working class children might become in the future.
Local market state 'regeneration' means too that London loses Londoners. It financially compels an increasing number of working class Londoners to leave London, a city where their families have lived for generations.
Saturated
Resident campaigners often condemn this 'regeneration' as 'social cleansing' by both class and race. They see their city's unique character and diverse culture disappearing.
Absentee overseas landlords preside over empty 'golden brick' investments. London's once diverse high streets used to be renowned for their independent businesses and family-run shops. Many though are now blandly and homogeneously saturated with chain stores and corporate coffee outlets.
Many Londoners continue to struggle to save their vibrant community life and to protect valuable publicly owned land and property assets.
However, London's hyper-commodified real estate market seeks to offer every acre and each brick to global and domestic speculators. London's political establishment is content to make this happen.
With this in mind, London, as seen from Ally Pally, remains impressive but the view conceals more than it reveals.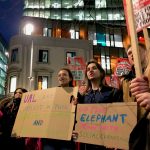 London: a view from Ally Pally: Elephant and Castle
(London: a view from Ally Pally represents the views of London Intelligence ® and is not connected in anyway to the Alexandra Palace cultural centre and park).
© Paul Coleman, London Intelligence ®, May 2019