Review: The London Encyclopaedia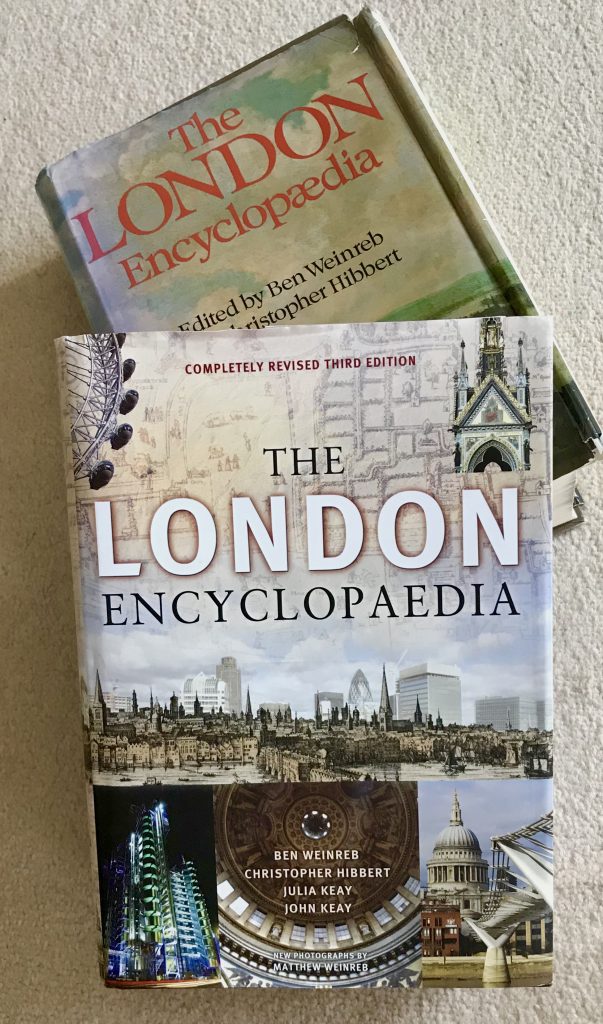 Volcanic London constantly splutters a lava flow of people and places that crust into hardened history.
John Stow's remarkable Survey of London of 1598 first recorded London's streets, buildings, people and key events.
Ben Weinreb (1912-1999), a self-taught bibliophile and Bloomsbury basement dweller – and one of the world's leading antiquarian architectural booksellers – invested a similarly monumental effort to record London's ebb and flow in his first edition of The London Encyclopaedia, published in 1983. A second card-indexed edition, published in 1993, began to record London's changing face – especially in London's docklands.
A 1,101-page completely revised digitally-indexed third edition, published in 2008, also claims to alphabetically capture, via nearly 6,000 entries, every London building, event, institution, park, street and suburb to the 'city's past glory and present vigour'.
Publishers Macmillan boldly blurb on the sleeve that 'here, rich in detail, alive with wit…is everything anyone could possibly want to know about London'. The third edition sits heavier on the shelf with 200 new entries and ten per cent more text than the second edition.
Random
Ironically, for an alphabetically-listed book, the A-Z Street Map of London, created by writer and painter Phyllis Pearsall (1906-96), sits first in the new edition, with the Zoological Society of London, founded in 1826 by Sir Stamford Raffles, the tip of the tome's tail.
Random flips entertain. The entry for Houndsditch EC3, for instance, pays homage to Stow's observation that in this place 'dead dogges were there laid or cast'. Another entry implies the Knightsbridge Barracks with its '303 soldiers of the Household Calvary and 273 horses' is short of a few mounts.
Another entry in The London Encyclopaedia, for 'Nando's Coffee House' on Fleet Street says: 'There was no-one who could supply coffee or punch better than Mrs Humphries; and her fair daughter was admired at the Bar and by the Bar.'
Struggle
Property developer-driven 'regeneration', the London 2012 Olympics and ongoing ethnic diversification has rapidly changed many of the city's neighbourhoods since 2008, rendering outdated some of the tome's entries for Stratford, Elephant and Castle and the area around Wembley Stadium.
An updated fourth edition would be welcome but might struggle to make interesting comments about many of these ubiquitous new, bland and boxified higher-density developments with their hutch apartments, chain coffee shops, supermarkets and corporate bookmakers. Such an edition might also contain fewer entries listing London's hospitals, distinctive pubs and churches – many lost thanks to developer-led regeneration's ongoing desecration of London's cityscape.
Underpin
Publication of a fourth edition might also be timely coincided with the completion of London's two biggest-ever infrastructure projects – the east-west Crossrail railway and the Thames Tideway sewer tunnel.
A glossary of thematic terms that coin London's changing political economy might also be helpful – including deindustrialisation, Thatcherism, privatisation, financialisation, regeneration and social cleansing.
By definition, an encyclopedia – with no narrative beginning, middle or end – remains difficult to assess. Trying to capture a city alphabetically – at a single publishing moment in time – is also akin to trying to paint the flow of the River Thames.
Yet The London Encyclopaedia manages to underpin Londoners' understanding of the history of their city and its constant flux.

London Intelligence Review of London Books rating: The London Encyclopaedia 3.5 out of 5
The London Encyclopaedia, Revised third edition, Macmillan, London 2008.
For more information: https://www.panmacmillan.com/authors/christopher-hibbert
© London Intelligence. All Rights Reserved.