The Heygate Estate stood for 40 years as an emblem of Britain's commitment to genuinely affordable public housing.
By late 2014, it's a pile of rubble.
Rubble makers
By Paul Coleman
*
*
Completed in the 1970s – and designed by architect Tim Tinker – the Heygate Estate is where thousands of people carved out their lives in 1,212 publicly owned homes.
The vast majority were council tenants, alongside a handful of 'right-to-buy' leaseholders.
But, for them all, the Heygate's heydays now only exist as memories.
It's December 2014.
Demolition crews – partly subsidised by taxpayers' money – have reduced the Heygate's public housing to small piles of rubble.
A private housing market takes over from public housing in this shard of south London.
Only 79 of 2,735 new homes to be built on the Heygate's 25 acres will be offered at rent levels comparable to council tenancies.
*
Generations
Southwark Council and developers Lend Lease say these new homes will 'regenerate' a failed estate and create a new south London neighbourhood.
People campaigning for more 'affordable homes' and social housing say Southwark Council is simply serving the interests of property developers.
Local residents say this 'regeneration' process, endorsed by the local state, amounts to 'social cleansing'.
Displacing less affluent household who have lived in the Elephant and Castle and Walworth neighbourhoods for generations.
And, replacing them with more affluent UK and overseas property investors.
*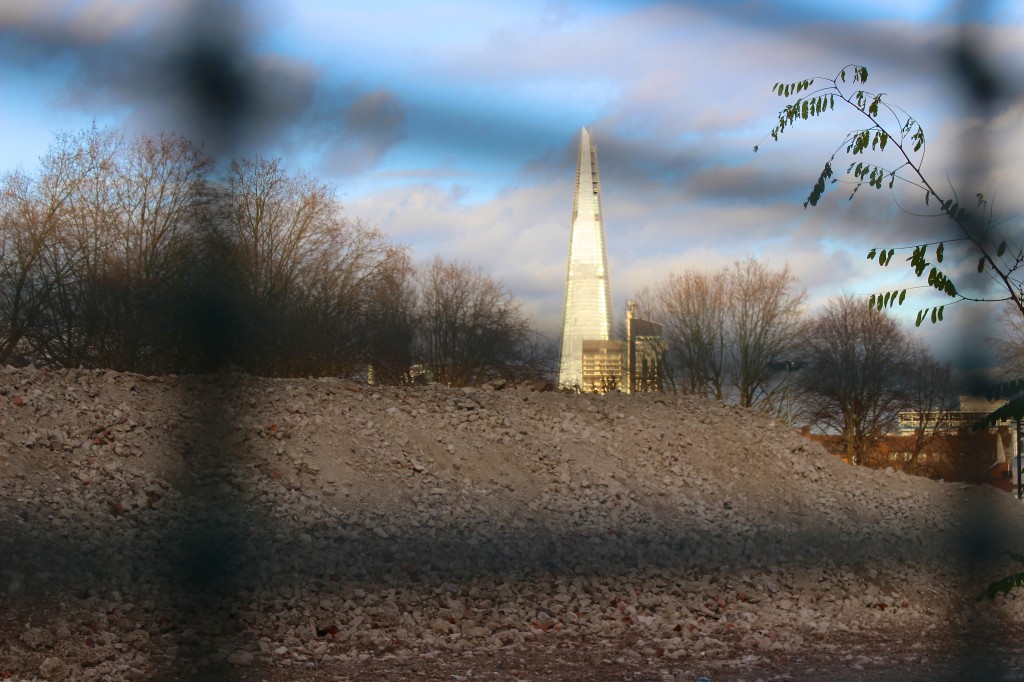 *
Scattered
Southwark Council underwrites this take over.
The Council spends £65 million on emptying – or 'decanting' – Heygate residents from the estate over several years.
Some residents receive locally built new 'replacement' homes, moving from secure council tenancies to housing association tenures.
Many are decanted even though more than half of the replacement homes on 'Early Housing Sites' remain unfinished.
The Council says tenants and leaseholders can move back to the new homes when they are completed.
In reality, most residents shun the cost and disruption of moving home twice.
These Heygate households are scattered to other parts of the south London borough and many to other places across London and south-eastern England.
And, Labour-controlled Southwark Council uses compulsory purchase orders to evict a band of determined leaseholders protesting against the loss of their homes.
But, by December 2014, the Heygate is no more.
And a constant growl of demolition and clank of construction fills the air around Elephant and Castle.
Echoing an accusation of dispossession.
Decantation.
Displacement.
*
Right to return
Locally elected politician Fiona Colley hears only the sound of progress made by the Heygate's demise.
A dedicated cheerleader of the Heygate's '£1.5 billion regeneration', Colley says the redeveloped site will be "open and permeable, pedestrian and cycle friendly.
"Streets will be enlivened with shops, cafes and front doors – an open and welcoming area, in stark contrast to the old estate".
Colley even says a vast and silent majority of Heygate residents are happy to be free from the Heygate.
However, many Heygate households showed an interest in a 'right to return' to 500 of 2,735 new homes to be built on the vast Heygate site.
Yet few Heygate households will benefit from this 'right'.
*
35%
Southwark's publicly agreed policy requires developers of new homes to provide 35% of new housing as 'affordable' in the Elephant and Castle area.
Of this 35%, half have to be 'social rented' and half 'intermediate'.
The claim is that this provides homes for people on low and middle incomes as well as homes for wealthy newcomers.
At least 10% of housing must be for families and 10% must be wheelchair accessible.
But campaigning local residents say this policy turns out to be worthless.
*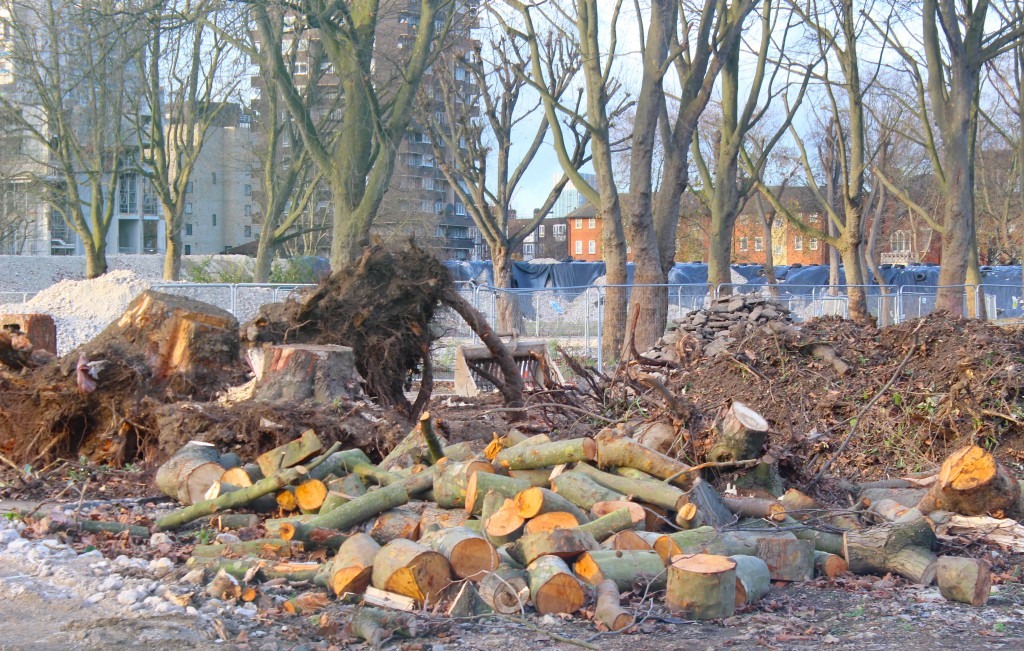 *
Viable
In 2007, Southwark Council valued the Heygate's publicly owned 25 acres at £150 million.
But, in 2010, Southwark Council leader Peter John, cheered on by Colley, signs an agreement to sell this chunk of public land – close to central London – to global developer Lend Lease for just £50m.
Lend Lease tells its development 'partner' Southwark Council it must make a viable profit from the Heygate 'regeneration' scheme.
And, to the consternation of many local Elephant & Castle and Walworth residents, Lend Lease convinces Southwark's elected politicians it can only make this profit if just 79 of these 2,735 new homes are offered at rent levels comparable to council tenancies.
Effectively eliminating the 'right of return'.
Confirming a net loss of council homes.
*
Felled
Hence, during 2013, 'Trafalgar Place' starts to replace the Heygate's 105 homes at Rodney Road.
Far East marketing and pre-sales of 235 new 'Trafalgar Place' homes begins.
By December 2014, construction of Trafalgar Place – the first phase of this new private housing market – nears completion.
And, homes are also demolished and mature trees are felled on the Heygate's northern and southern sections.
A high-density mix of new private luxury apartments and a controversially low proportion of 'affordable housing' are set to rise at 'Elephant Park' over the next ten years.
Local residents, and campaigners for more council or social housing, say these 'affordables' are unaffordable to the vast majority of south Londoners on average and lower incomes.
*
Aylesbury Estate
Demolition of any long-standing structure ought to convey a fresh sense of open space and genuine hope.
Politicians oblige.
Fiona Colley and Southwark Council leader Peter John constantly trumpet the socio-economic benefits of this form of developer-led 'regeneration'.
In doing so, they confront local people who argue the Heygate's 'regeneration' is just for wealthy newcomers – such as developers, overseas property investors and London's wealthy elite.
And, they say, a similar scenario will dispossess hundreds of council tenants of their homes on the nearby and even larger Aylesbury Estate.
*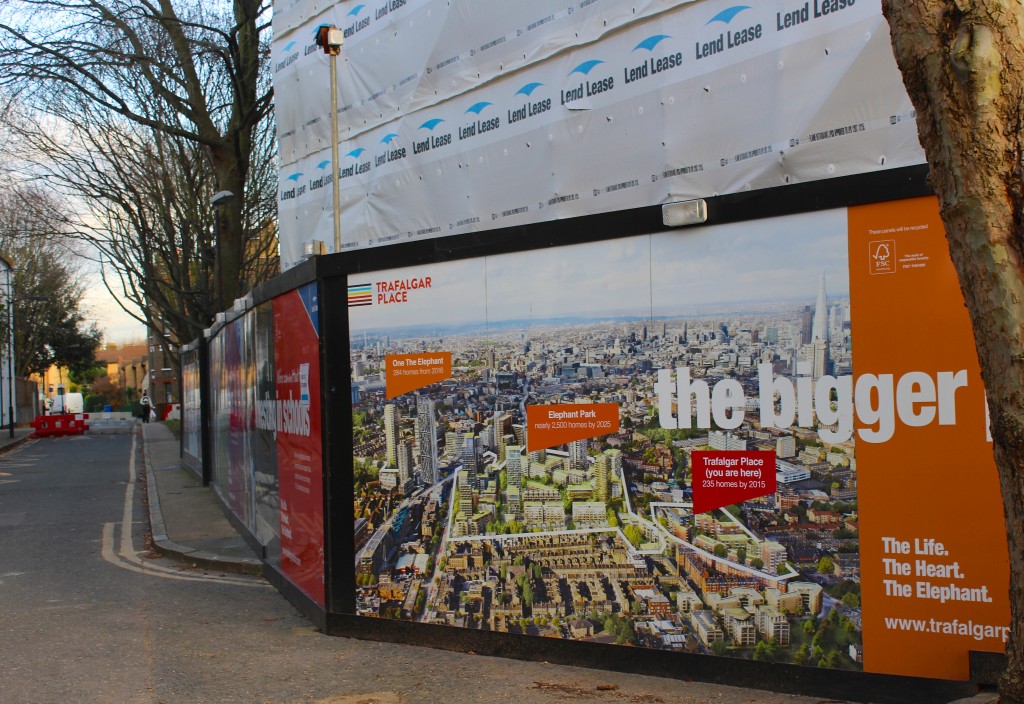 *
Real Londoners
Mark Dickinson, Lend Lease's managing director, says the developer can make a profit but also provide significant socio-economic benefits: "The aim is to create a new community within the next ten years," says Dickinson.
"People talk about the phenomenon of 'hollowing out' – where you see purchased units not being occupied.
"I think it's ridiculous to say this will happen in the Elephant and Castle. "Certainly, it's not at the heart of any investor decisions.
"People are buying these properties to rent them out.
"These are real homes being delivered for real Londoners to live in – whether they own or rent them."
*
Serve
Certainly, the flattening of the Heygate Estate demolishes an emblem of Britain's once proud commitment to providing subsidised and genuinely affordable housing for working people.
The Heygate's demolition also symbolises a 'regeneration' model adopted by local councils across London.
Across London, people feel elected politicians use the local state to primarily serve private market interests and not local people.
Politicians seem to resolve London's housing crisis by pushing less well off people out of London.
Local people find they cannot afford to stay in their traditional family neighbourhoods.
Young people, starting out in work and life, ask themselves, 'who is this brave new London really for?'
© Paul Coleman, London Intelligence, December 2014