*
Some Londoners love Centre Point, writes Paul Coleman. Others loathe it. That makes Centre Point another of London's 'Marmite' skyscrapers.*
Property tycoon Harry Hyams' honeycombed block stands sentinel and slightly convex over Tottenham Court Road tube and Crossrail station. Completed in 1966, (the last time an England team won the football World Cup), Hyams' 34-storey edifice stands as a looming monument to a 20th century gluttony for speculative office space. But will Centre Point become a monument to a 21st century global gluttony for speculative investment in London's uber high-priced real estate market?
The question arises as Centre Point is being refurbished, with 82 new luxury apartments for global investors but only 13 'affordable' flats for local people. Those affordable units are housed in White Lion House, an adjacent building.
Housing campaigners say Centre Point represents a missed opportunity and that its internal redevelopment could have made a significant and symbolic contribution to resolving the chronic shortage of genuinely affordable housing suffered by working people in London.
£55m Penthouse
Developer Almacantar is marketing its new apartments from a 'modest' £1.8 million for a one-bedroom flat to three-bedroom apartments starting at £9m.
The project also includes a £55m five-bedroom 7,200 square foot penthouse suite. The penthouse comes with a 360-degree terrace offering views over London. Almancatar says in Spring 2018 that half of the 82 flats have already been purchased – half by UK buyers and half by overseas purchasers. Almacantar communications director Daniel Ritterband says many of the UK buyers are returning from fully serviced apartments in Asia. They are attracted by Centre Point's pool, gym and a concierge service.
Ritterband says many of the UK buyers are young. "One tech guy is just eighteen," he reveals. American, Canadian, Indian and Thai buyers make up many of the overseas buyers.

Trophy asset
Earlier, in January 2017, the Dubai-based English newspaper and website – the Khaleej Times – advises its Gulf investor readership: 'If you are looking to own a postcode in central London, a buying opportunity has just cropped up…you have a chance to own a slice of British history since Centre Point is a Grade 2 listed building.' 
The Khaleej Times cites Victoria Garrett as the in-depth font of Centre Point sales knowledge. Garrett is a partner and head of a team at Knight Frank – the global property investment agency – that sells 'investment and trophy assets to High Net Worth and Ultra High Net Worth Individual clients within the Middle East'.
'We had a private afternoon high tea for a group of ladies in Dubai who are interested in buying in the UK, to give them an overview of this development (Centre Point),' says Garrett, who has 13 years of experience of matching HNW and UHNWI clients with investment and trophy properties.
To be an UHNWI, you'll need at least $30m in investable assets. So, by definition, Garrett's HNW and UHNWI target market is tiny – compared, of course, to all the people who need a home. But the HNW and UHNWI pie makes up for in cash what it lacks in numbers. Globally, over 212,600 Ultra High Net Worth Individuals hold a combined $30 trillion in net assets, according to a World Ultra Wealth Report by Wealth-X. They control 12% of global wealth, despite making up just 0.004% of the world's adult population. 
OTRC 
Centre Point, built at a cost of £5.5m, is located in Camden, a borough with a chronic shortage of genuinely affordable homes. Designed by Richard Seifert and protected as a designated Grade II listed building, Centre Point sits close to some of central London's most expensive real estate in neighbourhoods such as Bloomsbury, Covent Garden, Fitzrovia and Soho. Centre Point's fresh controversy over its lack of affordable homes connects strongly with its past. In the 1970s, despite its pre-cast concrete Brutalist architectural merits, Centre Point's vast office floors fail to attract a singular one-off tenant. Hyams refuses to let it piecemeal to multiple occupiers. 
Squatters and students then take it over in 1974, protesting at the lack of decent housing in central London. Later, a homeless charity even adopts the moniker Centrepoint and bases itself at the foot of the block. Business lobby group, the Confederation of British Industry, makes Centre Point its HQ for 30 years before moving closer to the City of London's financial district. Hence, more empty than occupied during its fifty year history, Centre Point was always going to be a prime target for a developer to come along and subject the complex to an OTRC – a property market acronym for an Office To Residential Conversion.

Sure enough, Almacantar acquires Centre Point for £120m in 2011. The central London property specialist's OTRC makes the complex a prime target for speculative global HNW and UHNWI investors; people looking to stash their cash in the most profitable niches of the world's real estate market. Of course, Almacantar present their scheme publicly as a major benefit to Londoners. 'The project will breathe new life into this landmark, giving it a sustainable and exciting future for the benefit of all Londoners and visitors to the capital,' says Kathrin Hersel, Almacantar's development director.  
*
Exclusivity  
Centre Point will challenge other uber­ expensive London schemes on grounds of controversial exclusivity; even though it stands outside London's so-called 'prime central platinum triangle' of Knightsbridge, Belgravia and Mayfair. London's real estate industry will herald Centre Point as right up there with the likes of the Candy Brothers' One Hyde Park, a development overlooking Hyde Park and Knightsbridge, where one apartment sold for £140m in 2014. Perhaps, though, Centre Point is better compared with the Shell Centre, another OTRC, on the South Bank. The former London HQ of the global oil company, Shell, is being converted into 877 new homes. Prices start at an over-heated £540,000. 
*
Crossrail 
Almacantar engaged Rick Mather Architects to renew Centre Point's components; the 117-metre high tower and a glazed bridge link to a low-rise block with shops and apartments. Conran and Partners reconfigures the complex's bland office interiors to incorporate 82 new luxury apartments (16 x one bedroom, 37 x two-bedroom, 26 x three bed, two x four bed and a five-bedroom duplex. The complex also features a 30-metre pool, a spa, club and 41,780 square feet of restaurants and shops. There's only one deletion. Crossrail's station construction at Tottenham Court Road removes a pond and fountain that gushed at the foot of the tower's western frontage.
Crossrail – London's new east-west rail service (due to start in 2018) – gives Almacantar confidence the scheme will be a financial success. Crossrail links Centre Point at Tottenham Court Road to Heathrow Airport in just 30 minutes. 'Centre Point is now the focus of Crossrail which will trigger an explosion in visitor numbers to this part of the West End,' chirps Hersel. Garrett also chips in, pointing out that Centre Point and Tottenham Court Road will be the only point across London where Crossrail will meet with Crossrail 2, a proposed north-south London rail link.
"Crossrail is a massive pull," says Ritterband. "It's four minutes from Mayfair, six minutes from the City. That infrastructure lights the torch paper and inspires developers and others to move in." Ritterband points out Facebook, Warner Bros, LinkedIn and Twitter have taken office space within three minutes walk of Centre Point and Tottenham Court Road's Crossrail station.
*
Secure baths

So, Londoners on average and lower incomes will still use Centre Point as a landmark. They will be able to float through Centre Point but will not be able to call it home. Almacantar says its refurbishment 'hits the ground well', as they say in real estate/architecto babble, as the redevelopment adds a 'public piazza' with shops, restaurants and 'open air space' (see below). However, all too often, 'public' and 'open' in 21st century London means public access and activity is regulated and restricted by patrolling private security guards. The security industry loves London's real estate boom – whether residential, retail or office. Expect to see a lot of security and surveillance as you munch a pizza on the Centre Point piazza.
Centre Point and its OTRC ilk also create opportunities for other contractors. For instance, the conversion needs a lot of bathroom suites and ceramics. In 2016, C.P. Hart Contracts secures a deal to install bathrooms in the 82 apartments and penthouses. Established by Charles Percival Hart in 1937, the company creates high quality traditional and contemporary bathrooms. The London-based bathroom company says Dornbracht digital showers, vanity units and sanitaryware will adorn Centre Point's apartments. Bathrooms will also feature Bette freestanding baths and Duravit WCs. 
*
Dark and empty 
But how many apartment owners will enjoy their state-of-the-art showers? How many Duravits will be flushed? How many of these HNWIs – UK or overseas – will actually take up residence? London's other new high profile residential towers, such as One Hyde Park and the St George Wharf Tower at Vauxhall, include many purchased apartments that remain unoccupied.
Centre Point might still yet become a towering safe deposit box, an OTRC full of HWN and UHNWI cash seeking a yield. If so, it might become a plush penthouse-topped tower devoid of people seeking a real home, neighbourhood and community.
Londoners will be therefore looking to see if Centre Point becomes yet another central London monument to 21st century globalised inequality – a conspicuously vast and empty Marmite tower.
*
*Marmite: a sticky, dark brown and salty food paste, made from yeast – the by-product of brewed beer – producing a taste that polarises opinion; hence, just like The Shard, Strata SE1 and The Barbican complex.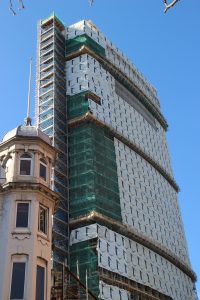 *
© London Intelligence. All Rights Reserved.