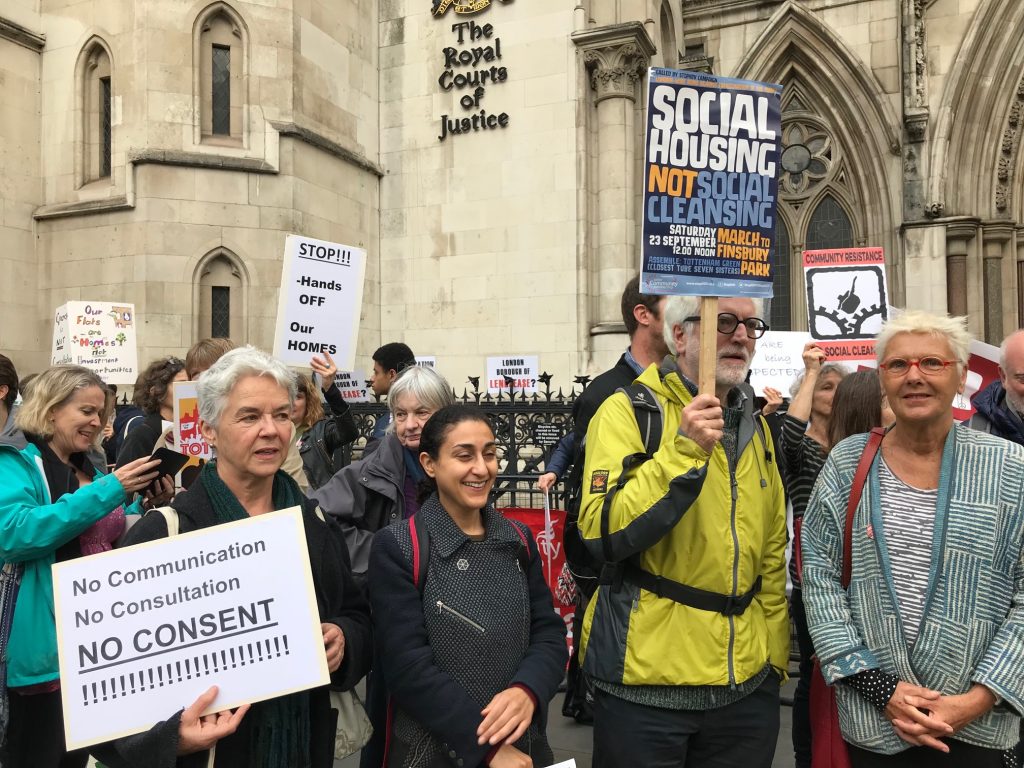 *
By Paul Coleman
*
Gordon Peters is in court. Big time. Peters, 73, attempts what is effectively a legal giant-killing. Cast as the heroic lone citizen, Peters seeks to use the law to slay what he sees as a monstrous bonding between an arm of the local state – Haringey Council – and a global corporate developer, Lend Lease, the council's new 'behemoth' ally.
Peters is a social housing campaigner, veteran worker activist and supporter of London's squatters' movement in the early 1970s. He cuts an unassuming figure in his suit and tie. A former social services director, Peters says if his judicial review challenge fails then the Haringey Development Vehicle (HDV), a limited liability partnership between the Labour-controlled north London Borough of Haringey and Lend Lease, will carnage its way through the lives of many people living in parts of Tottenham and also Wood Green. "It will result in the biggest sell off of a local authority's land and property in history," says Peters. "The case has implications for the future of social housing in London and beyond."
Haringey uses the judicial review challenge this week (Wednesday/Thursday 25/26 October) to emphasise that Lend Lease will use £2 billion worth of transferred council land and assets to deliver new homes and 'estate regeneration' across Haringey. Peters, though, is far from alone. Outside the law courts, on the Strand, about a hundred or so people rally to support him under the banner of the Stop HDV campaign. They have crowdfunded £25,000 and engaged law firm Leigh Day to prepare the case.
Several have also taken the Piccadilly Line tube from Turnpike Lane and the Victoria Line at Seven Sisters to bedeck the ornate spiked railings of the Gothic Revival monstrosity that is the Royal Courts of Justice with placards and posters that slogan, London Borough of Lend Lease' and 'Lend Fleece, Hungry Demolition Vultures'. An alliance of local tenants, leaseholders, businesses and traders, Stop HDV says if the HDV is given a legal green light then thousands of working class Haringey residents, many of them black and Asian, face losing their established council homes, private houses, shops and businesses across Tottenham, Northumberland Park, Wood Green and on Broadwater Farm.
*
'Regeneration'
Even the borough's two local Labour MPs, Catherine West and David Lammy – and a bloc of Labour and Liberal Democrat Haringey councillors – oppose the HDV, even though they are not wholly opposed to some kind of asset-backed vehicle being devised to deliver much-need local area improvements. But, undaunted, Haringey Council and Lend Lease regard their new development vehicle – the country's first limited liability partnership between a council and a developer – as the bearer of well-intentioned and thoughtful 'regeneration' that will benefit local people economically and socially. Haringey Council leader Claire Kober and regeneration and housing lead councillor Alan Strickland describe the HDV as "an innovative 50/50 partnership between the council and development partners Lendlease that will bring investment to the borough, thousands of new homes, jobs, improved public spaces and community facilities".
Stop the HDV campaigners agree parts of Haringey are home to long-established residents and multi-generational working class households and families, many of whom need new and refurbished homes, better paid jobs and new community facilities. But not the kind of developer-driven regeneration that Kober, Strickland and Lend Lease want. They see the HDV as a kind of Trojan horse for social cleansing; a means of how Haringey Council's New Labour leadership will sell local people down the river to a developer that will only deliver on demolition of their cherished homes and businesses.
They say the HDV will permanently displace local residents, traders and small and medium businesses – including many of black and Asian origin – from their traditional neighbourhoods, tearing up the existing social fabric and ripping community networks. With no guaranteed right of return to any new homes and businesses developed by the HDV large numbers of working class people will be priced out of Haringey permanently.
Haringey refutes this claim and says, for example, every tenant and leaseholder on the Northumberland Park estate will enjoy a right to return when their homes are redeveloped. They will be given priority to newly developed 'affordable', shared ownership and market sale homes – if they can afford to, and it's that last qualification that sits at the heart of the grievances that Peters' challenge represents.
A council that establishes a vehicle to build new genuinely affordable council homes, offered at council rents to existing local people on secure tenancies, would likely get the support of Peters, his fellow campaigners and people across Haringey. But that option is way off the agenda set by Haringey's ruling New Labourites, an agenda consolidated by their choice of Lend Lease in February 2017 as preferred bidder and private sector partner for the HDV LLP.
 *
Displaces
Hence, Haringey Council, Lend Lease and Peters end up in a two-day court hearing. Chaos ensues when Peters et al make their way into the Law Courts on day one. The allotted tiny and antiquated Court 19 cannot accommodate the swinging of a small cat let alone host a case generating much national as well as local public interest. Eventually, via a maze of wood panelled corridors and stone staircases, a flustered court clerk efficiently displaces everyone – Peters, three legal teams and a bemused public – to a relatively airy Court 76. The Hon. Mr Justice Ouseley, a High Court judge in the Queen's Bench Division – with his session now running late – hears David Wolfe QC kick off Peters' judicial review challenge. Lend Lease's legal team sit present too, as the developer is an 'interested party' and is keen to see how its manifestly current – and possibly expansive future – development ambitions for Haringey withstand a legal challenge.
So, what does the HDV as an untried limited liability partnership entail? The unprecedented scale of publicly owned assets transferred from Haringey to Lend Lease leaps off the page. Haringey Council says the HDV, as a limited liability partnership owned 50% by the council and 50% by Lend Lease, involves the council immediately transferring its entire commercial property portfolio to the stand alone HDV. In return, the council will reap a £45 million 'investment' from Lend Lease, a considerable sum to a debt-capped local council denied funding by central government but a relatively small sum in terms of the scale of local government spending.
Haringey then plans to transfer up to £2 billion worth of its property to the HDV, including Northumberland Park, Cranwood, Broadwater Farm, Tunnel Gardens and other tracts of public land. The council hopes that Lend Lease's investment clout will enable the HDV to use £2 billion worth of council land and assets to deliver new homes and 'estate regeneration' across these targeted parts of Haringey, albeit, of course, delivering handsome returns for Lend Lease among the way.
*
Vehicles
As Peters rightly says, other local councils have used local asset-backed vehicles to develop parcels of council owned land and help cross-subsidise other council services. These aim to get round debt capping restrictions on their housing revenue accounts imposed by central government. They also counter the ongoing loss of council homes to people who exercise their Right to Buy and offer an alternative to housing associations that are becoming far too corporate with their offer of Affordable Rent homes that are simply unaffordable to people on average and lower incomes. For instance, neighbouring Enfield set up Housing Gateway to purchase homes for rent for people on its housing waiting list.
Croydon is sole shareholder of Brick by Brick, its own private development company that pursues small-scale development schemes, the majority on infill land sites. Ealing formed Broadway Living in 2014 to create up to 1,000 new homes to let at market or discounted market rents, for low cost home ownership, shared ownership, or
 for market sale.
Oxford City Council wholly owns a housing company and other new JV partnerships to develop mix tenure new homes. Barking and Dagenham runs a shared ownership and wholly owns a company building new homes for rent. Reading wholly owns a housing company to buy and rent properties. Newham solely owns Red Door Ventures that builds private rental homes.
Such initiatives are still relatively youthful and small-scale in order to avoid exposing councils and their council tax payers to an overload of commercial risk. But Peters says that Haringey's limited liability partnership with Lend Lease involves a transfer of commercial and council estate assets – including Wood Green – to one company that is unprecedented in UK local government. Even Haringey's own Civic Centre HQ and council chamber – its democratic showcase – is set to go to the Haringey/Lend Lease development vehicle as 'category 1' large and significant chunks of land and real estate.
Peters also uses subtle legal technicalities to challenge the HDV. He says Haringey can only set up a commercial body through a regular company, not through an unprecedented limited liability partnership with a corporate developer – and the full council and not just the Kober-led cabinet should have established the HDV. The Labour-led Council says the Localism Act 2011 – a Conservative/Liberal Democrat coalition law – gives it authority to establish the HDV LLP and that it was advised that  an LLP would gain added 'tax advantages'.
*
Obligations
Justice Ouseley will also consider Peters' claim that the HDV, as a LLP, could operate freely without local people being able to legally challenge any of its decisions and behaviours that impact detrimentally on their homes, businesses and neighbourhoods. Haringey Council has been legally challenged in recent years on human rights grounds; for instance, on the issue of the alleged discriminatory impact on Latin American, Caribbean and Indian traders and residents of the council's plans with developer Grainger to decant, demolish and redevelop Ward's Corner, a thriving and ethnically diverse indoor market at Seven Sisters. That challenge held up Haringey and Grainger's Seven Sisters regeneration plans for years and continues to thwart Grainger, an aspect of Haringey community politics that Lend Lease ought to have taken into account in its own risk assessments.
Peters also claims Haringey has failed to make sure the HDV will comply with the Freedom of Information Act and legally enshrined public sector duties to promote equality. The Council denies it has failed in these aspects and that it has "an aggregrational cocktail of powers" to control the HDV.
Peters says the judicial review will be "a litmus test legally for the future of what development corporations are trying to do". Many councils are looking closely at the outcome of Peters' challenge.
The hearing concluded today (Thursday, 26 October). A decision is expected within the next few weeks.
*
*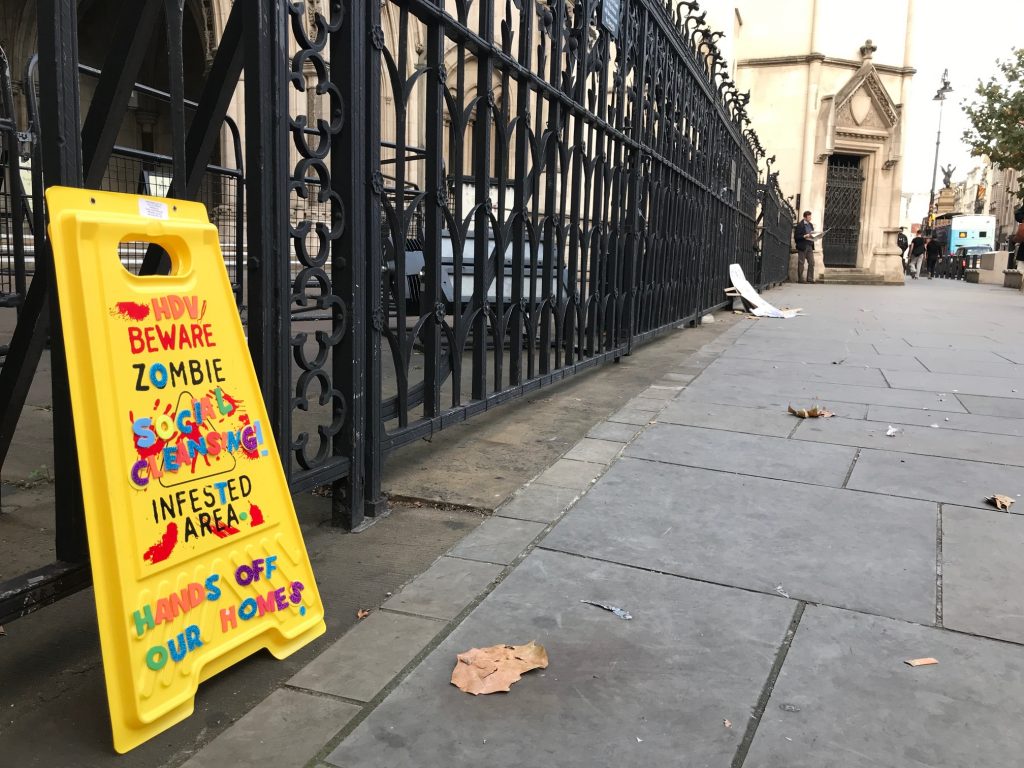 © Paul Coleman, London Intelligence, October 2017